Standard vs. Customizable
The Graphic Perf® Family. Encode your building facade or interior surfaces with meaning through Arktura's customizable Graphic Perf® family of panel systems. Arktura's proprietary, algorithmic software systems and manufacturing expertise make Graphic Perf® the way to inscribe any image, text or pattern into panels tailored to your design vision.
Graphic Perf® Features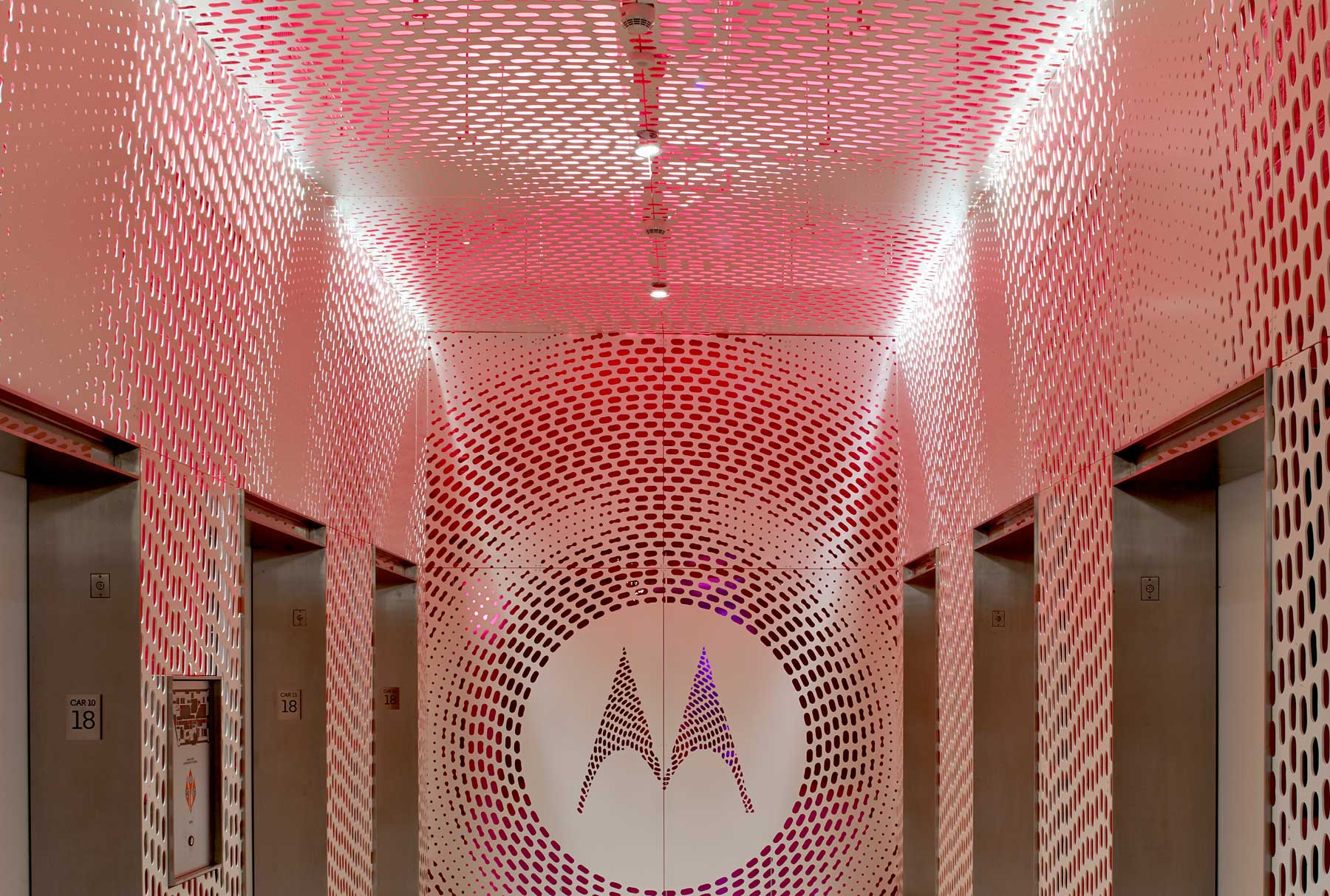 Modular & Dynamic:

Arktura's Graphic Perf® is your creative vision translated to pattern and form within a panelized system. We fuel designers' and architects' creative design strategies by enabling them to play with and direct pattern and design concepts to inform the system.


Proven Project Management:

Our project managers translate your goals and design opportunities into a precise workflow. We factor in all base building criteria, then produce detailed software-generated shop drawings to guide our precision manufacturing.


Advanced Technology:

From our proprietary software tools to state-of-the-art manufacturing facilities, Arktura infuses core architectural design expertise with aerospace-level precision manufacturing.


Flexible Attachments & Hardware:

Arktura understands that no two projects are alike, which is why our pre-engineered library of Graphic Perf® attachments is designed to be flexible and adaptive to unique project requirements.

Performance & Sustainable Practices:

All of our Graphic Perf® materials have a high proportion of recycled content and are fully recyclable.

Easy Installation:

We help eliminate the guesswork and reduce installation time and cost through our proven, step-by-step "kit of parts" approach. Our easy-to-follow installation instructions provide a clear path to success for your project.

TRANSFORM FUNCTIONAL BUILDING FACADES INTO ART

PHOTOREALISTIC INTEGRATION OF GRAPHICS AND SIGNAGE

BRAND YOUR SPACE THROUGH PATTERN

IMPACT YOUR CEILING WITH LARGE PANELS
Process
Select an icon to view more
Project Quoting

In a quick and highly informative way, our sales support team gathers all pertinent project data to help you consider critical project factors.


Design Stage

The Graphic Perf® system is tailored and customized through our proven design process. Then, detailed design and shop drawings are created for your review, input and final approval.


Manufacturing Detailing

From the moment we receive your design approval, we work diligently to capture all final details in our easy-to-understand and highly specific shop drawings.


Engineering Review

Whether coordinating with your own engineering resources or leveraging our engineering team, every Graphic Perf® project is carefully evaluated prior to manufacturing.


Advanced Manufacturing

Our facilities, equipment and personnel combine to offer precision driven results. We integrate custom software and precision manufacturing to ultimately benefit you, your client and your finished installation.


Shipping & Delivery

Our team handles all the logistics from start to finish. Through our quality control measures we precisely organize the part crating sequence right down to the fasteners. All this ensures your product is safely packed and arrives undamaged and on time.


Installation

Let us connect you with our network of trusted installers. Our team of project managers is here to help you along the way.