Standard vs. Customizable
The Trace® Family. Trace® introduces subtle visual interest inspired by the ephemeral beauty of mist or cirrus clouds—continuous strands weave through a grid to yield a truly elegant visual pattern. The quiet simplicity of the design makes it an ideal background for large spans and multiple rooms.
Trace® Features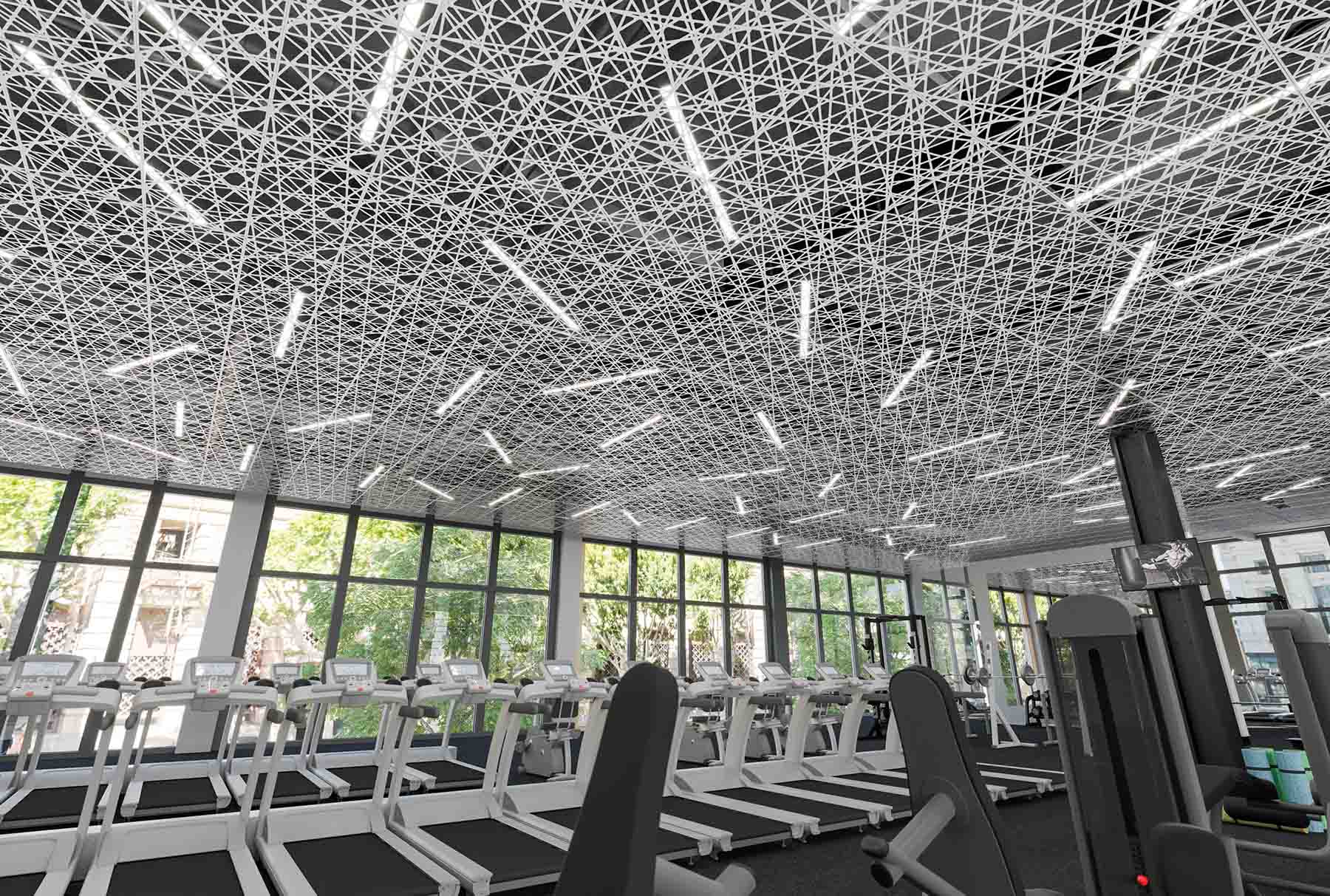 Preconfigured Solutions:

Trace® products are preconfigured solutions designed with a dynamic array of criteria and effects. Choose from the many options in our library to uniquely impact your project.

Acoustical System:

Equipped with a one-half inch thick Soft Sound® backer panel, the system can provide an NRC rating of up to 0.9. Couple that with the open, laser cut graphic metal panel and you can achieve amazing acoustical performance across an entire space or simply over a desired zone.

Quick Ship Product:

When you purchase a preconfigured solution, we quickly deploy our manufacturing expertise and automated processes to meet your project deadline.

Quick Access System:

Transform your ceiling plane into a beautiful scrim layer of pattern, texture and form. Each ceiling product has been designed to utilize standard attachment grid systems allowing for easy installation and removal to access the infrastructure above.


Performance & Sustainable Practices :

All of our Trace® materials have a high proportion of recycled content and are fully recyclable.


Easy Installation :

We help eliminate the guesswork and reduce installation time and cost through our proven, step-by-step "kit of parts" approach. Our easy-to-follow installation instructions provide a clear path to success for your project.

DESIGN WITH A MODULAR SYSTEM

SCREEN INFRASTRUCTURE WITH A SCRIM LAYER

CHOOSE FROM A RANGE OF BACKER OPTIONS

REMOVE PANELS EASILY TO SERVICE BUILDING INFRASTRUCTURE
How to Specify
Select an icon to view more
Select a Style

Trace® is available in Straight, Curved, Skew, and Slant pattern variations to allow you to select the right aesthetic for space.

Select a Color

Panels are made available in a variety of colors. See our powder coat brochure for standard and premium options. Customized color matching is also available.

Select a Number of modules

All our Trace® Family offers seamless patterns that are fully scalable. Select the amount of modules needed for your project.

Option to Add Lighting

Optional - Add integrated lighting. Incorporate dynamic inline or backlighting, to add another dimension of functionality and visual interest to your project.

Option to Add Backer

Optional - Add backer panels. Incorporate available backers of frosted acrylic, for diffused lighting and other visual effects, or Arktura's Soft Sound® acoustical material, to reduce the impact of noise across spaces.