The VaporSoft® Family. VaporSoft® makes it easy to achieve dramatic visual effects while enhancing acoustic performance, at any scale. Its seamlessly tileable pattern options absorb sound and reduce reverberation thanks to faces made of our Soft Sound® acoustical material. Soft Sound® faces are available in a wide array of colors. Add available options and accessories, including wood textures, Arktura's integrated InLine or Backlight lighting, acoustic and translucent backers, and the design opportunities are endless.
VaporSoft® Features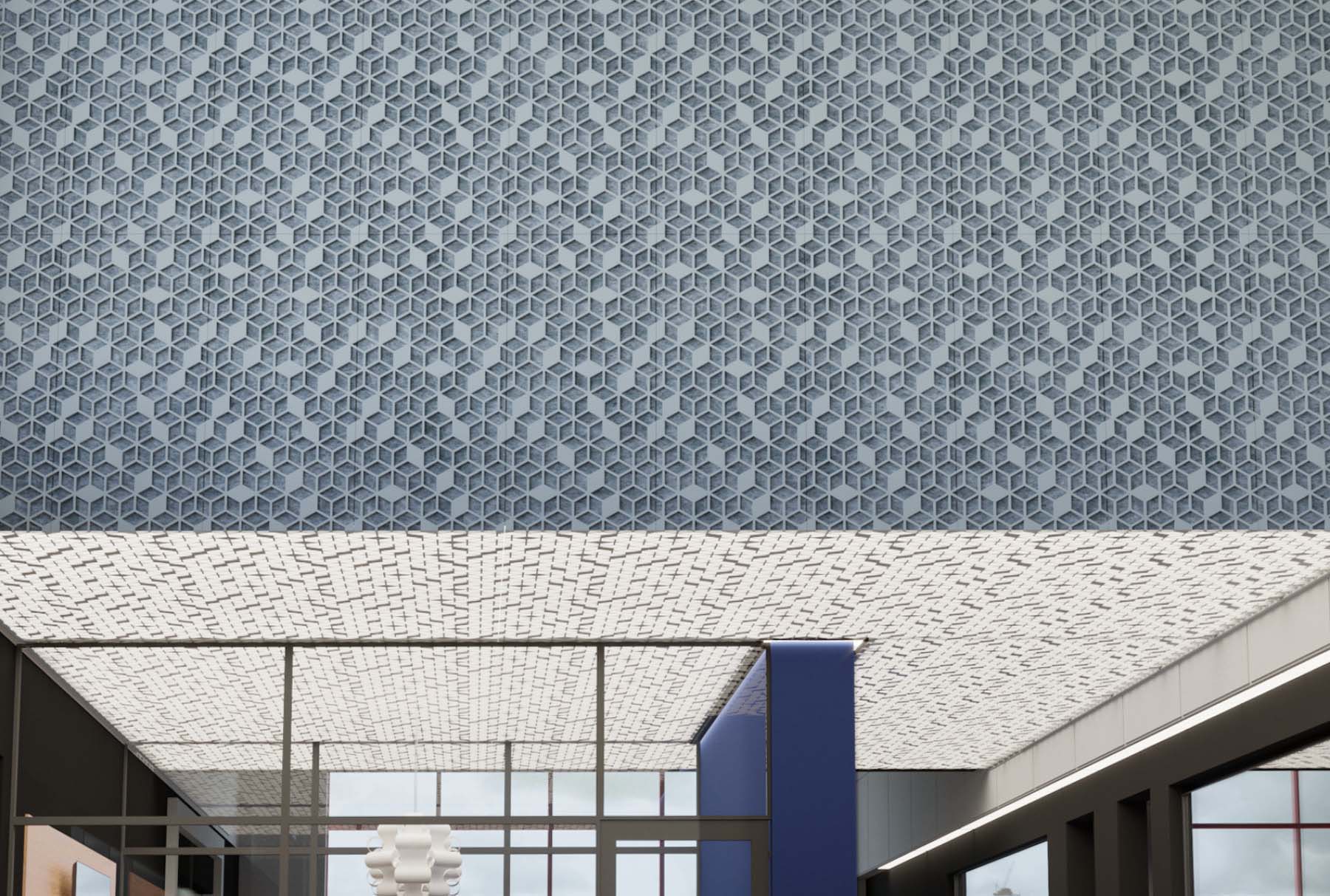 Acoustical System:

VaporSoft®'s Soft Sound® faces and available backer panels can provide an NRC rating of up to .9, achieving amazing acoustical performance across an entire space or simply over a desired zone.

Preconfigured Solutions:

VaporSoft® products are preconfigured solutions designed with a dynamic array of criteria and effects. Choose from the many options in our library to uniquely impact your project.

Quick Ship Product:

When you purchase a preconfigured solution, we quickly deploy our manufacturing expertise and automated processes to meet your project deadline.

Quick Access System:

Transform your ceilings or walls into a beautiful scrim layer of pattern, texture and form. Each ceiling product has been designed to utilize standard attachment grid systems allowing for easy installation and removal to access infrastructure.

Performance & Sustainable Practices:

VaporSoft® materials are sustainably sourced and fully recyclable. Soft Sound® PET is globally recognized as a safe, non-toxic polymer.

Easy Installation :

We help eliminate the guesswork and reduce installation time and cost through our proven, step-by-step "kit of parts" approach. Our easy-to-follow installation instructions provide a clear path to success for your project.
SOFT SOUND® ACOUSTICAL FACES

A LIBRARY OF PRECONFIGURED SOLUTIONS

AVAILABLE ARKTURA INTEGRATED LIGHTING OPTIONS

REMOVE PANELS WITH EASE
Our Work Flow
Select an icon to view more
Select a Style

STYLE
Select the style that best suits your vision and project needs. VaporSoft® is available in a range of styles to fit a multitude of design intents. Find the right pattern and texture for your space.

Select a Color

Panels faces are available in a variety of colors and finishes. See our Soft Sound® brochure for standard colors and premium wood texture options. Note metal base panels are not customizable.

Option to Add Lighting

Optional - Add integrated lighting. Incorporate dynamic inline or backlighting, to add another dimension of functionality and visual interest to your project.

Option to Add Backer

Optional - Add backer panels. Incorporate available backers of frosted acrylic, for diffused lighting and other visual effects, or Arktura's Soft Sound® acoustical material, to increase acoustical performance.