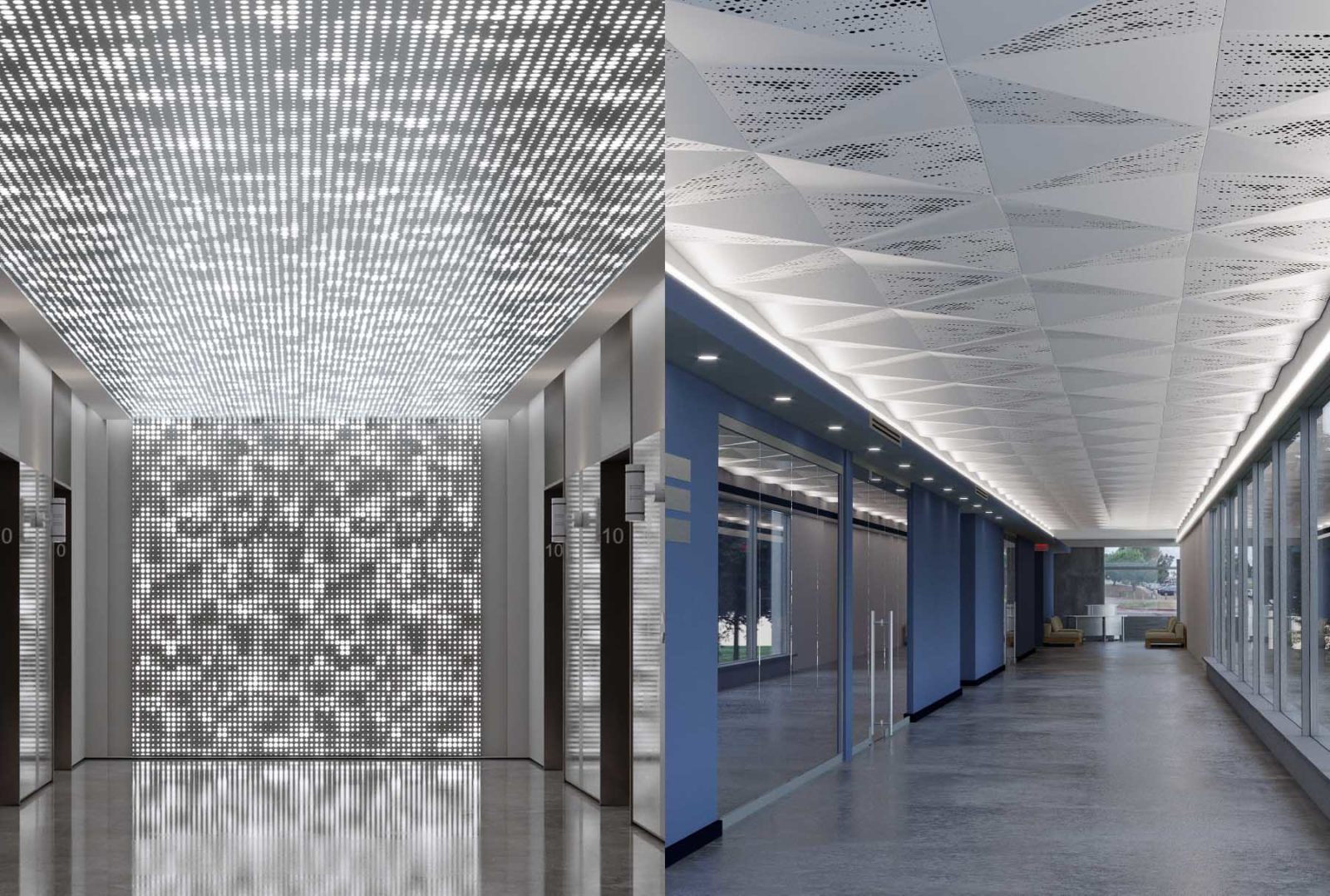 Introducing New Vapor® and Delta Drop® Wall and Ceiling System Options
March 1, 2018
Introducing New Vapor® and Delta Drop® Wall and Ceiling System Options
Arktura is happy to announce our Vapor® and Delta Drop® families of standard panel systems have expanded, making them more flexible than ever, across ceilings and walls.
Vapor® has doubled its range of style options with the addition of four new patterns – Pixel, Cumula, Syntax, and Byte. These build upon customer favorites like Vapor® Trail and Cluster with more intricate designs than ever before. All are seamlessly tileable, in the same 2"x4" module form factor, and compatible with both our new Vertika™ Wall Channel System, as well as standard grid systems. This helps make perfectly scalable installs along walls and ceilings a breeze. Learn more about the simple flexibility of Vertika™ on our page for Vapor® Wall. Add options like available custom powder coat, Arktura's integrated InLine and Backlight illumination, or frosted translucent or acoustic Soft Sound® backers, and the design and performance opportunities are endless.
Clockwise from upper left: Pixel, Cumula, Byte, & Syntax.
Our faceted Delta Drop® panel system family, meanwhile, has been expanded to include a new 4" x 4" form factor, with the introduction of Delta Drop® 4×4. Thanks to compatibility with our Vertika™ Wall Channel System and standard grid systems, it offers the same ease of install along walls and ceilings as our Vapor® Family. Like our classic Delta Drop® 2×4, it is available with various pattern options – full solid, fully perforated, and split – all in a variety of powder coat colors, including custom. These can be combined with Arktura's integrated Backlight and mixed and matched with translucent backers, or acoustic Soft Sound®, available in a wide range of colors, and wood textures, to achieve the various lighting and visual effects.
Full pattern Delta Drop® 4×4, left, 4×4 and 2×4 mixed, right.
Follow the links below to learn more:
Learn more about our expanded Vapor® Family
Learn more about our expanded Delta Drop® Family
Learn more about bringing paneling to walls on our Vapor® Wall product page