The Atmosphera® Standard Family. Atmosphera® Standard builds on Arktura's experience designing and manufacturing custom solutions to deliver a dynamic, scalable, and affordable family of modular ceiling systems. Choose from linear, organic, and faceted designs, available in a wide range of colors.
Atmosphera® Standard Features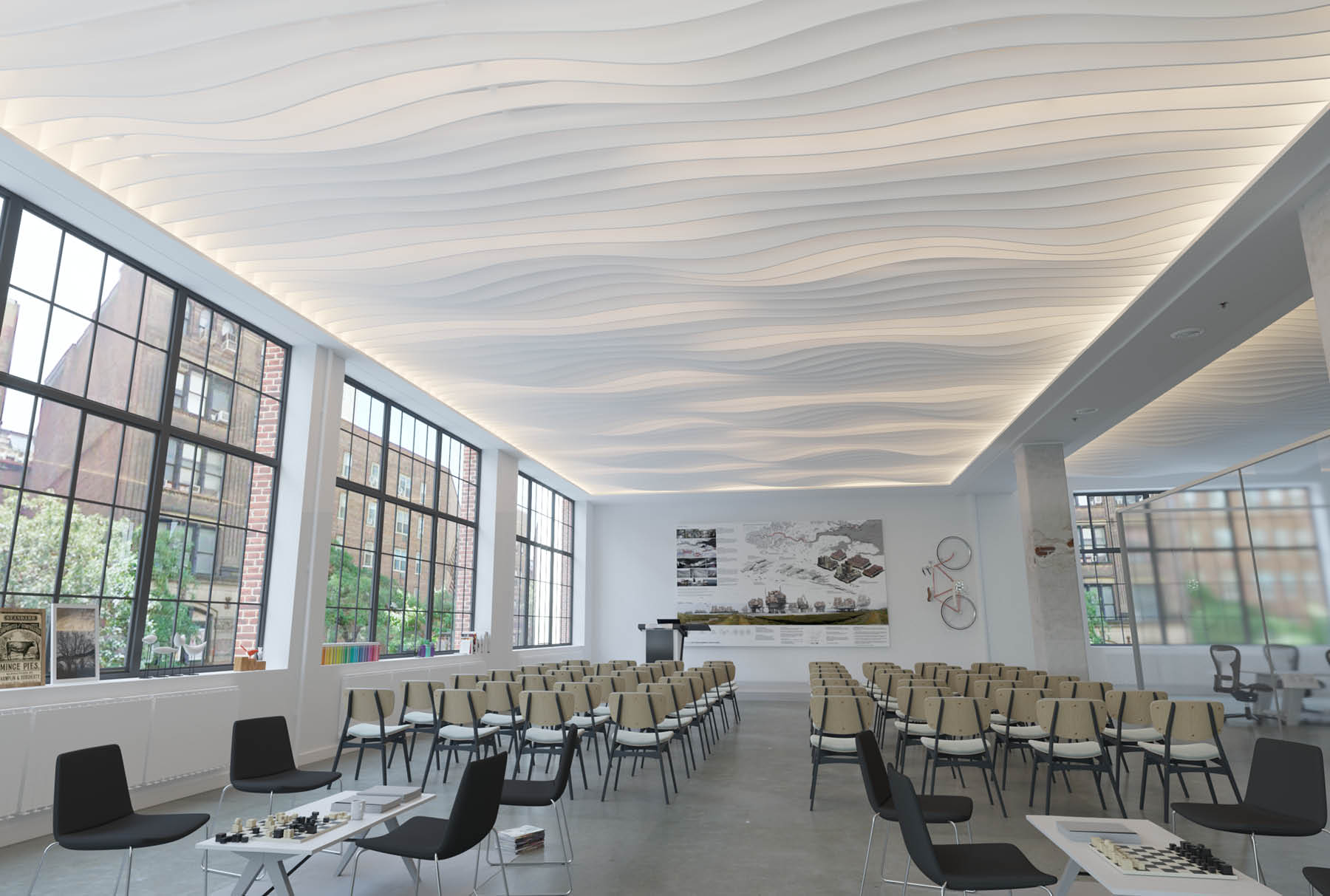 Modular & Dynamic:

Arktura's Atmosphera® Standard combines years of custom design and manufacturing expertise into an accessible and dynamic modular system.

Acoustical Systems:

All designs are available in Arktura's high-performance acoustical Soft Sound® material, providing an NRC rating up to .9. Couple that with a gridded layout and you can achieve amazing acoustical performance across an entire space or simply over a desired zone.

Easy Installation:

We help eliminate the guesswork and reduce installation time and cost through our proven, step-by-step "kit of parts" approach. Our easy-to-follow installation instructions provide a clear path to success for your project.

Open Versatility:

Our Atmosphera® Standard Family offers openness and flexibility, to easily accommodate new and existing building systems and lighting.

Quick Ship Product:

Because it is standardized, Atmosphera® Standard can be in your hands, ready to install, in less time than you may imagine.

Performance & Sustainable Practices:

Arktura takes sustainability seriously. All of our Atmosphera® Standard materials have a high proportion of recycled content and are fully recyclable.
DESIGN WITH A MODULAR & DYNAMIC SYSTEM

MANAGE ACOUSTICS OF YOUR SPACE THROUGH DESIGN

INTEGRATE BUILDING SYSTEMS WITH EASE

EXPERIENCE UNDULATING, LINEAR, OR FACETED SURFACES
How to Specify
Select an icon to view more
Select a Style

Select the style that best suits your vision and project needs. Pick from a variety of linear, undulating, or faceted designs.

Select a Material

Select modules are available in both steel and Arktura's performance acoustic Soft Sound® material variants.

Select a Color

Modules are available in a variety of colors. See our powder coat and Soft Sound® color brochures for more information.

Select Number of Modules

All Atmosphera® Standard modules are scalable by design. Select the quantity of modules needed for your project.
Atmosphera® Standard Family