Standard vs. Customizable
The Atmosphera® Family. Take your design to new heights using Arktura's Atmosphera® family of products—a modular, configurable, open baffle ceiling system with a range of tailored visual profiles and options. Atmosphera® can adapt to any space and help you achieve bold, beautiful results in architecture and interior design.
Atmosphera® Features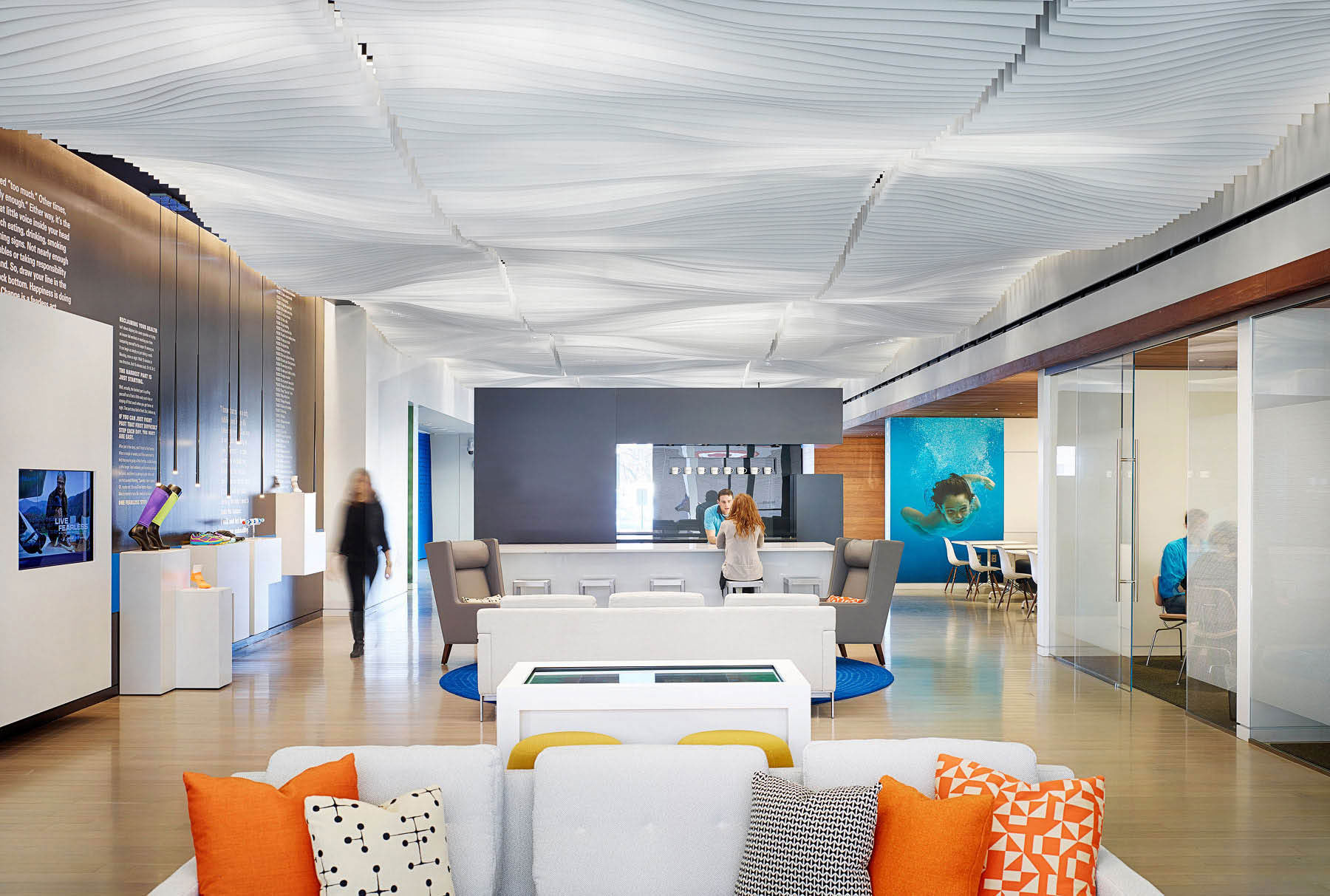 Modular & Dynamic:

Each Atmosphera® module is highly configurable and can be adapted to fit any space. Design your own pattern or choose from our style library to fully tailor each system to your project.

Proven Project Management:

Our project managers translate your goals and design opportunities into a precise workflow. We factor in all base building criteria, then produce detailed software-generated shop drawings to guide our precision manufacturing.

Advanced Technology:

From our proprietary software tools to state-of-the-art manufacturing facilities, Arktura infuses core architectural design expertise with aerospace-level precision manufacturing.


Open Versatility:

Our Atmosphera® ceilings are 95% open in plan to accommodate building systems and lighting. The Atmosphera® Family allows you to introduce new design elements into your space while helping to screen existing infrastructure from sight.


Performance & Sustainable Practices:

Our innovative Soft Sound® material offers an NRC value up to .9, which allows you to address the important acoustical needs of your space. All of our Atmosphera® materials have a high recycled content and are fully recyclable.

Easy Installation:

We help eliminate the guesswork and reduce installation time and cost through our proven, step-by-step "kit of parts" approach. Our easy-to-follow installation instructions provide a clear path to success for your project.

DESIGN WITH A MODULAR SYSTEM

EXPERIENCE UNDULATING SURFACES

MANAGE THE ACOUSTICS OF YOUR SPACE THROUGH DESIGN

INTEGRATE BUILDING SYSTEMS WITH EASE
Process
Select an icon to view more
Project Quoting

In a quick and highly informative way, our sales support team gathers all pertinent project data to help you consider critical project factors.


Design Stage

The Atmosphera® system is tailored and customized through our proven design process. Then detailed design and shop drawings are created for your review, input and final approval.


Manufacturing Detailing

From the moment we receive your design approval, we work diligently to capture all final details in our easy-to-understand and highly specific shop drawings.


Engineering Review

Whether coordinating with your own engineering resources or leveraging our engineering team, every Atmosphera® project is carefully evaluated prior to final production.


Advanced Manufacturing

Our facilities, equipment and personnel combine to offer precision-driven results. We integrated custom software and precision manufacturing to ultimately benefit you, your client and your finished installation.


Shipping & Delivery

Our team handles all the logistics from start to finish. We organize the crating sequence right down to the fasteners. All this ensures your product is safely packed and arrives undamaged and on time.


Installation

Let us connect you with our network of trusted installers. Our team of project managers is here to help you along the way.