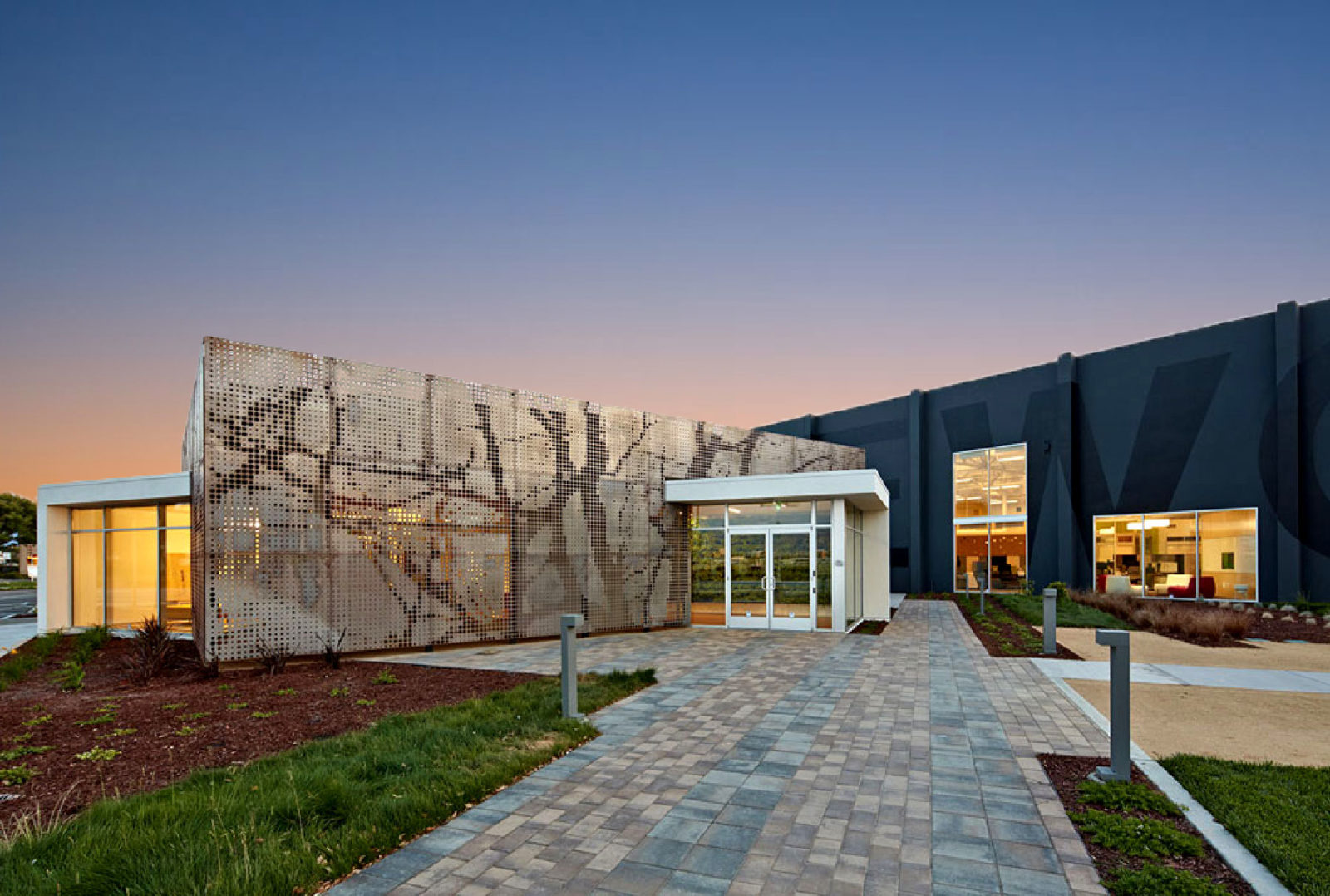 10 Ways to Incorporate Decorative Screen & Panels In Your Space
April 30, 2020
The way that offices are laid out is changing. More and more frequently, offices and commercial spaces are beginning to adopt open and fluid floor plans that let people move around more. 
This has led to the need for screens that can help divide the spaces for privacy, while still allowing for that open feel. It's also led to a need for some better decor, to help brighten and highlight the design now that there are fewer walls. 
Decorative screen and panels provide a method of helping to enhance the appearance of a space, while providing some privacy in certain instances. Using panels, you can add a lot of detail and decorative elements to an office, hallway, reception area, stairwell or lobby.
Decorative Screen & Panel Design Ideas
Whether you use permanent, fixed panels or modular, moveable decorative screens can enhance both the function and the aesthetics of any area they're used in. If you're wondering just how attractive a decorative panel or screen can be, take a look at these 10 ways you can incorporate them into your space.
1. Screen Backdrops

Screens don't have to sit out in the open to be useful. If you have a blank wall, such as this one behind a receptionist desk, decorative screen panels make a beautiful backdrop. 
And when it's made of Soft Sound material, it can provide functionality as well; in this case, by providing acoustic support right where you need it, without detracting from the area's design and style. 
2. Divide with Openness

Create a private lounge area, employee kitchen or private office spaces with greater ease than solid walls while promoting openness by using decorative metal screens. These interlocking screens allow light to pass over, through and under each screen. That helps keep the open feeling of the space, while still providing some of the privacy that's necessary within office environments like this one. 
The subtle, repeating pattern of the screens complements many different decors, without competing with other styles or elements in the design. 
3. Screen Images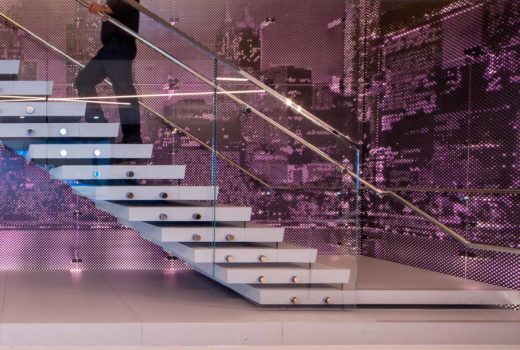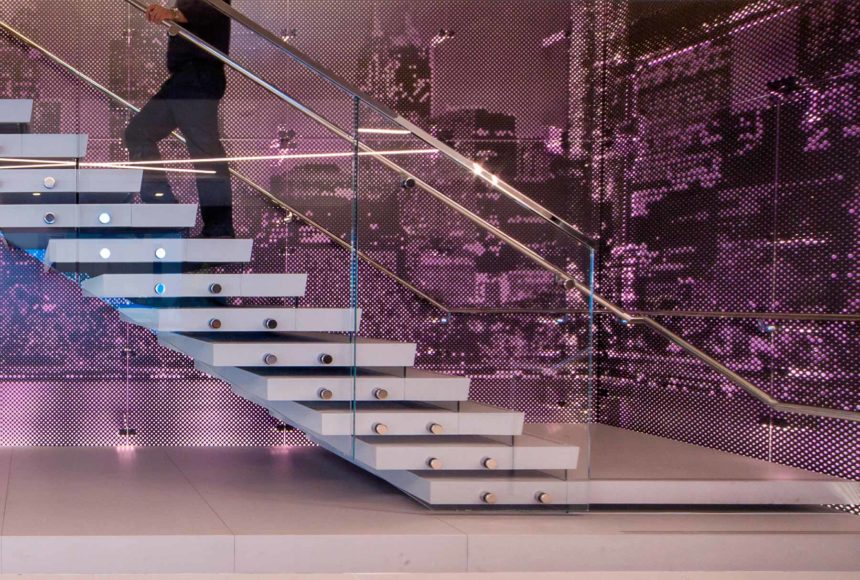 Stairways are one area that frequently gets overlooked in terms of decor or decoration. They tend to be bland and utilitarian in design, which can detract from the rest of the space. Using typical wall art, however, often doesn't work due to the height of the wall. 
Having a decorative panel in place of a solid wall can give you the detail you need while overcoming the challenges of the space.
Using panels that have been printed with an image such as a cityscape, also makes the stairway more of a focal point in the design. This is useful for areas that need to direct visitors to the stairs: The image will more quickly capture their attention, leading them to their destination.
4. Decorative Wall Panels

Long corridors are another area that can frequently benefit from some additional imagery or decor. Installing decorative metal panels over the walls can help bring an interesting and decorative element to the design. 
By covering the entire wall, it makes a powerful statement that can become an instant focus in the space. These panels have been patterned with an organic design that resembles the silhouettes of tree branches. 
Since nature designs have been shown to be beneficial in office environments, this type of design can be put to good use in a variety of settings. 
5. Sliding Screens

Sometimes you need spaces to be able to adapt to your needs, becoming larger or smaller, and offering privacy as needed. 
Decorative metal screens installed on a sliding track can meet those needs easily. Light can pass through the screens, so neither space becomes overly dark, yet having the screens closed can help ensure privacy and a quiet space to work.
Plus, they can enhance your design. By having an image printed on the screens, you can take your design one step further and ensure it really shines.
6. Outdoor Imagery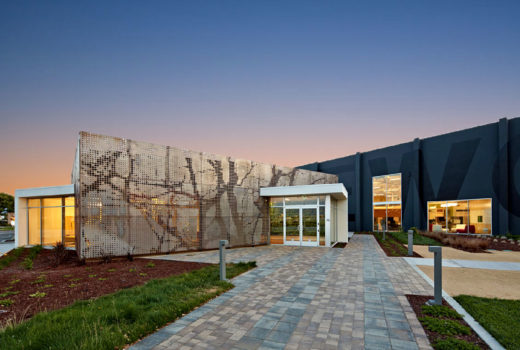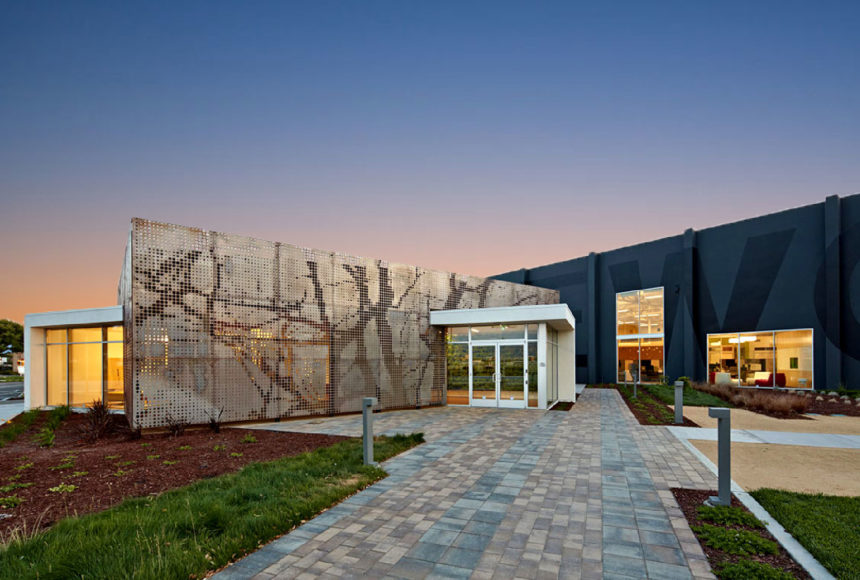 Outdoor spaces are in need of decoration and added imagery just as much as interior spaces. 
These decorative outdoor panels help create a more inviting atmosphere in the landscaping. They've been printed with images that suggest tree limb silhouettes, which blends in well with their setting, yet their contemporary style also complements the building they're installed against. 
It results in an eye-catching exterior that will make people will want to stop and come closer. 
7. Wrapping the Ceiling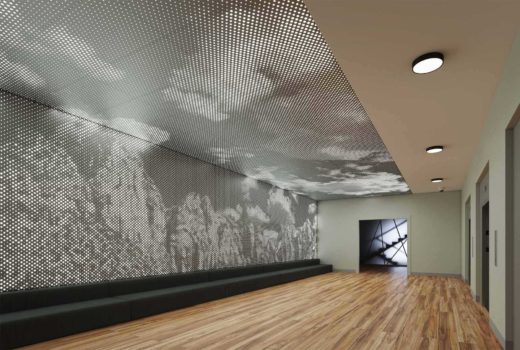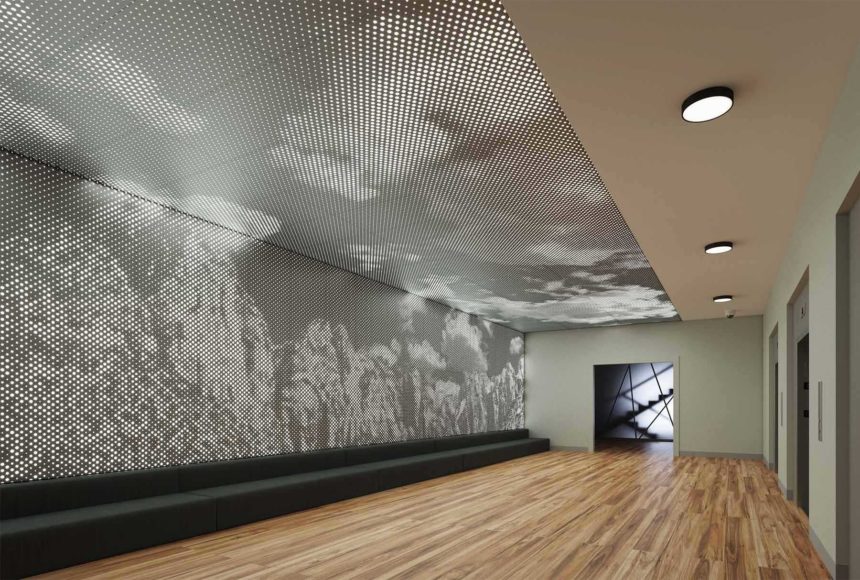 Seating areas and large, open rooms can look very plain, very quickly without something to anchor the design. Lobbies, hallways and other waiting areas also tend to be open, sterile spaces that can use something interesting to look at. 
Decorative panels installed over the seating area on this wall and wrapping onto the ceiling helped this elevator lobby keep from becoming bland. 
The decorative metal panels feature a landscape and cloud design that enhances the area, while making sure that anyone sitting and waiting in this space can have a beautiful backdrop to do it against.
8. Suspended Panels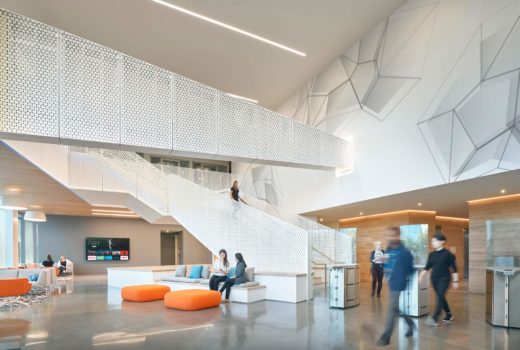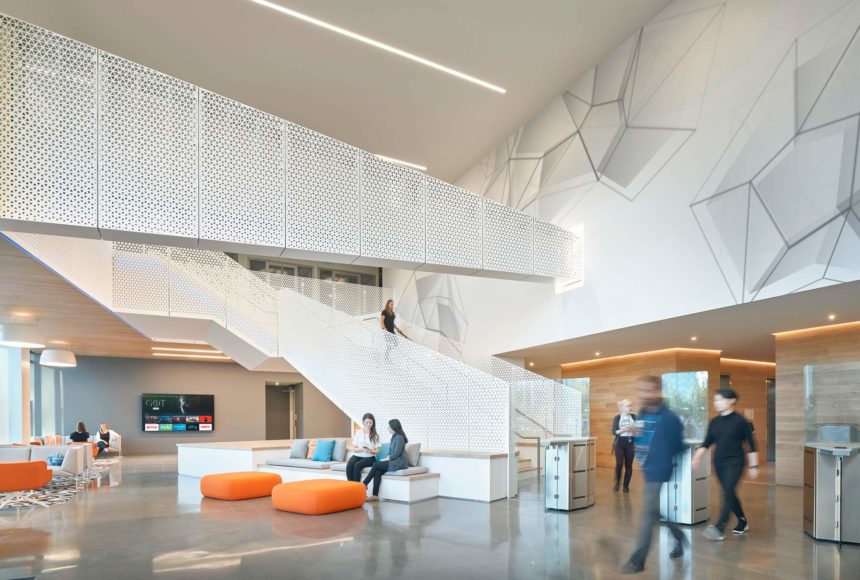 Highly contemporary spaces that have high ceilings need a special kind of added design and imagery. Stairs and suspended walkways with solid sides can block too much light and look out of place in the airy setting of the room. 
In this area, panels are used to line the sides of the stairway, as well as for a suspended walkway above. This enables the panels to become part of the design, rather than something that contrasts it. They offer the safety necessary in these areas but still allow for light to complement the space.
9. Bold Color Design

Decorative metal screens don't need to be grayscale, white or metallic in tone; they can actually be nearly any color you desire. 
This enables you to add features and decoration to areas like conference rooms, while also adding a bold pop of color as an accent wall at the same time. Bold colors are great for capturing people's attention, making areas like this the focus of the office. 
10. Get Warmth From Wood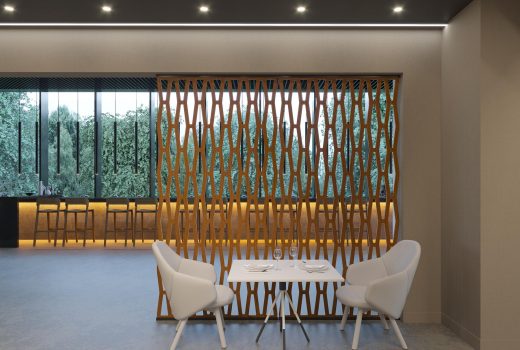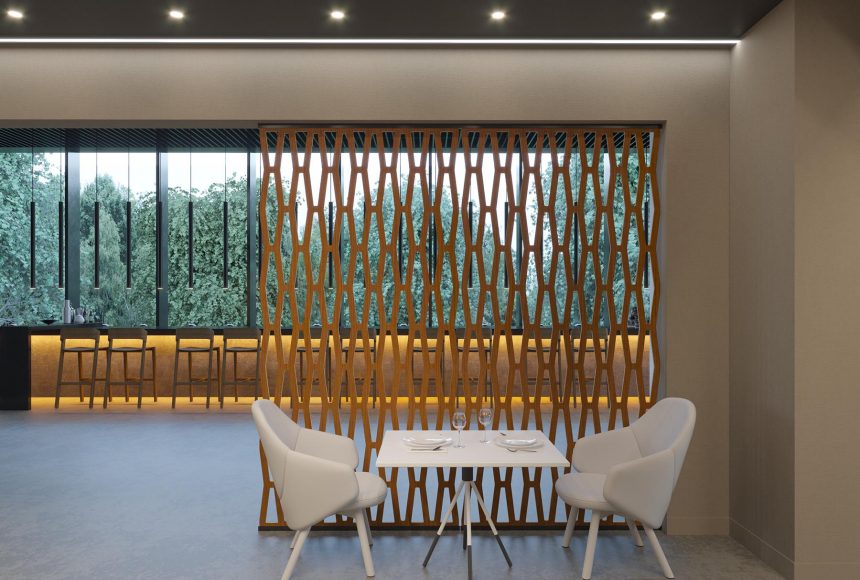 Decorative screen panels don't need to be made of metal, either. You can add a warm ambiance with a wood textured screen. The SoftScreen screen featured above is made from Soft Sound wood, so you can get acoustic support right where you need it (such as behind romantic seating for two). 
Incorporate Decorative Screens and Panels Into Your Space
Decorative screens and panels can add interest, color, detail, and pattern to any area you install them in. Whether you need them in an office to set up a private area for quiet conversations or to add some interest and detail to a stairway, decorative panels can play a big role in the looks and function of any place they're installed in. 
Consider using decorative screens and panels in your space to create the perfect environment. And be sure to check out our Solutions Studio for more screen and wall system inspiration from our fully custom projects. Or click here to contact a rep near you for more information on how Arktura can help your design stand out from the crowd.