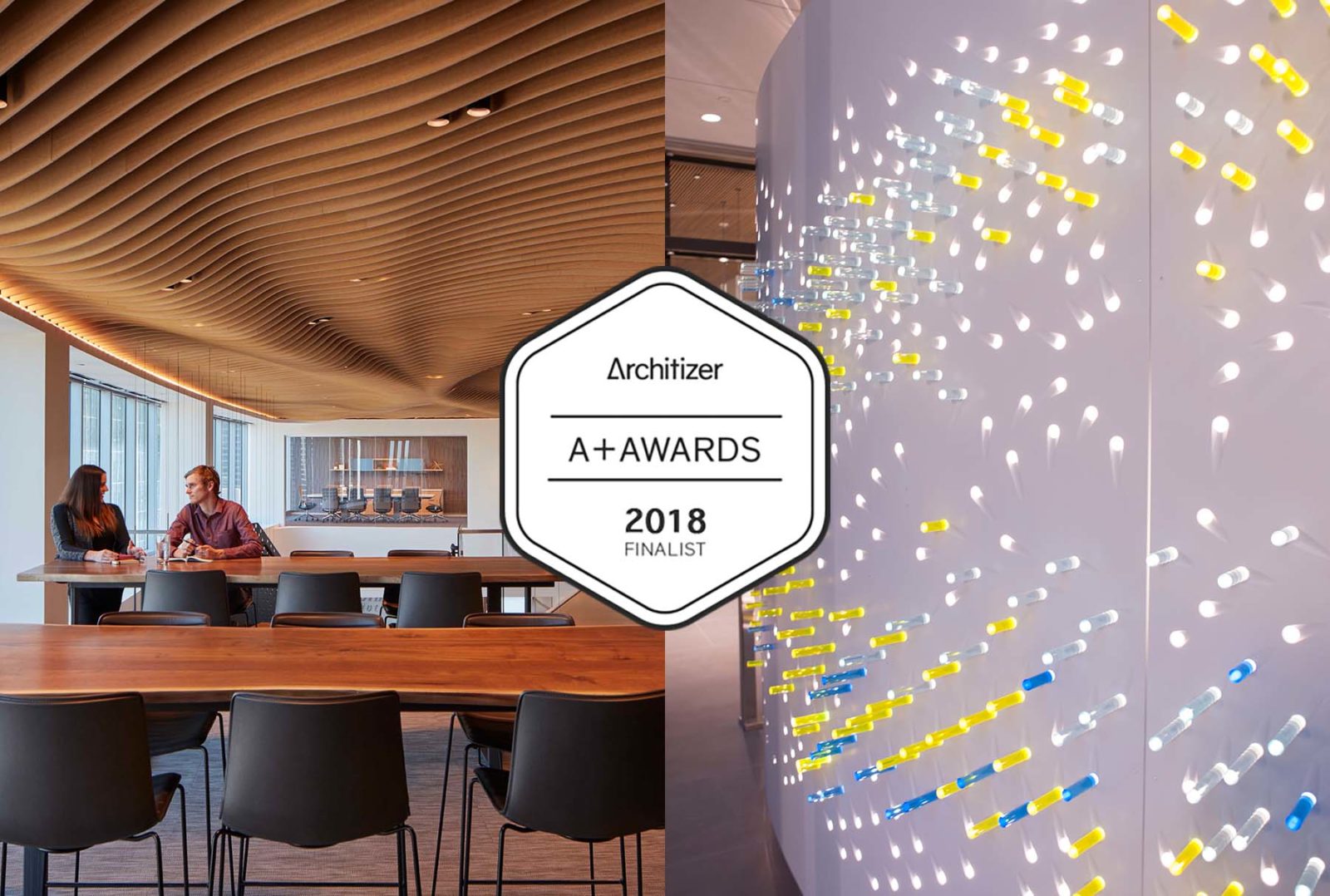 Arktura 2018 Architizer A+ Awards Finalist in Two Categories
July 10, 2018
Arktura Repeats as Architizer A+ Awards Finalist
Arktura is excited to have two projects nominated as finalists in the 2018 Architzer A+ Awards – Data Swarm for IBM Watson in the Architecture + Collaboration category and Mead Jonson Nutrition in the Architecture + Acoustics category. Special thanks are extended to collaborators Synthesis Design + Architecture and Partners by Design.
About the Projects:
Data Swarm for IBM Watson – Architecture + Collaboration

Data Swarm is a large-scale feature wall created for IBM Watson's Machine Learning and Cognitive Computing focused Experience Center in Cambridge, Massachusetts. This project teamed Arktura's Solutions Studio® with Synthesis Design + Architecture and IBM Watson Analytics to create a three-dimensional spatialization of data tied to health sciences. Its design was derived from co-concurrence analysis data from IBM Watson Analytics, drawing relationships between 7 genetic influenced diseases against variables like genes, drugs and years. The resultant digitally-fabricated dynamic architectural feature creates a uniquely spatial narrative that offers visitors an engaging and immersive visual representation of Big Data.
Mead Johnson Nutrition – Architecture + Acoustics

Arktura and Partners by Design collaborated to implement an groundbreaking application of Atmosphera® Analog 3D ceiling system at Mead Johnson Nutrition's North America Headquarters in Chicago. This project served as the launching ground for Soft Sound® wood texture, a naturalistic version of Arktura's high-performance Soft Sound® acoustical material, made from 100% recyclable PET and NRC rated up to 0.9. This allows the ceiling to achieve significant noise reduction throughout the 62,000 square foot space, while complementing and enhancing the organic feel of undulating ceiling, designed to reflect the banks of the adjacent Chicago River.  Arktura's innovative design enhances the space while simultaneously serving as an expression of the headquarters surroundings and Mead Johnson Nutrition's corporate culture and values.
About the Awards:
The Architizer A+ Awards is the largest awards program focused on promoting and celebrating the year's best architecture and products. Its mission is to nurture the appreciation of meaningful architecture in the world and champion its potential for a positive impact on everyday life. Imagine your best work in front of a global audience of 400+ million.
Arktura previously garnered 3 finalist nominations in the 2017 edition of The Architizer A+Awards with Atmosphera® Pulse, SoftGrid® Skyline, and Vitol Houston.
Check out the links below to learn more: