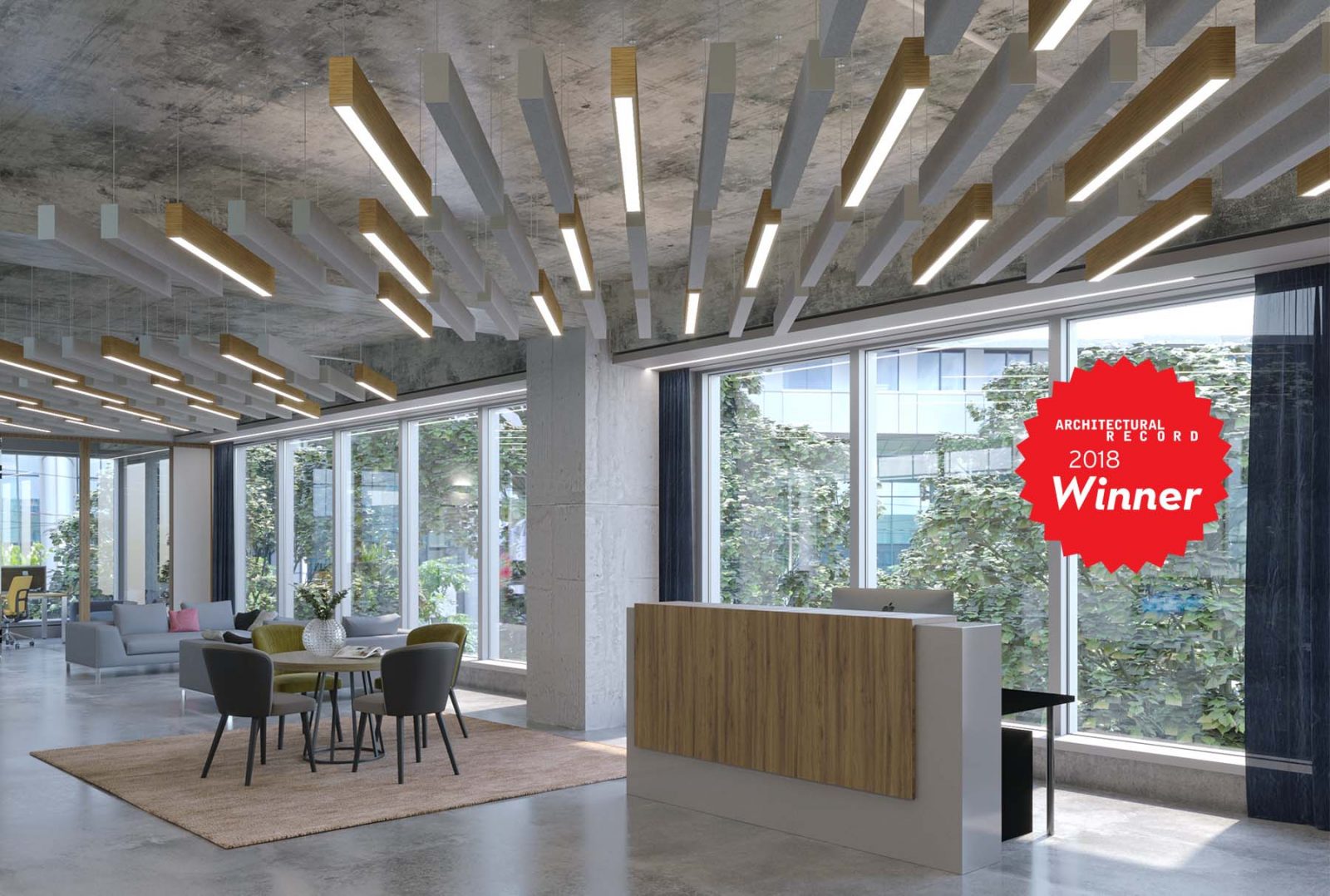 Introducing SoundBar™ All-In-One Acoustical Baffle & Lighting System
December 3, 2018
We are excited to release Soundbar™ acoustical baffle & lighting system, winner in Architectural Record's 2018 Record Product Awards! This is our third consecutive year winning with our acoustical products. SoundBar™ was named as a Best Surfacing Product of 2018 and is an excellent addition to our two previous winners, SoftFold® & SoundStar®.
SoundBar™'s winning quality is that it's a unique, innovative baffle system that provides acoustical performance and integrated lighting in a single versatile product. We wanted this product to help streamline design and specifying while simultaneously adding clean aesthetics to any space with one simple, cost-effective solution.
Soundbar™ Lighting Options
We set out to design a flexible acoustical baffle and lighting system with high-performance acoustic ratings (NRC rated up to 1.15) and ETL listed efficient fixtures to give architects control over their environments. So, Soundbar™ was designed at the outset as a modular system with the intent of being implemented at any stage of the design process. This aspect allows it to work equally well in new construction or in retrofits.
"Soundbar™ is our solution-based product with high-quality, minimal detailing.  We've incorporated an innovative suspension system to run power directly through two thin stainless-steel cables – eliminating the power cord from the installation.  This makes it simpler to install and cleaner." – John Johnston, Director of Product Development
Soundbar™ is designed for flexibility, facilitating solutions with mix and match creativity for any project, including non-illuminated variations or Akrtura's Soundbar™ lighting options (Up, Down, and Duo). It is available in a wide range of colors, including wood textures, and has hundreds of sizing options available to allow for dynamic configurations. Fueling new designs and solving architectural and aesthetic design problems is what we thrive on doing. SoundBar™ and its integrated lighting options are the latest explorations of these solutions.
Learn more about SoundBar™ here
Learn more about the Architectural Record's 2018 Record Product Awards