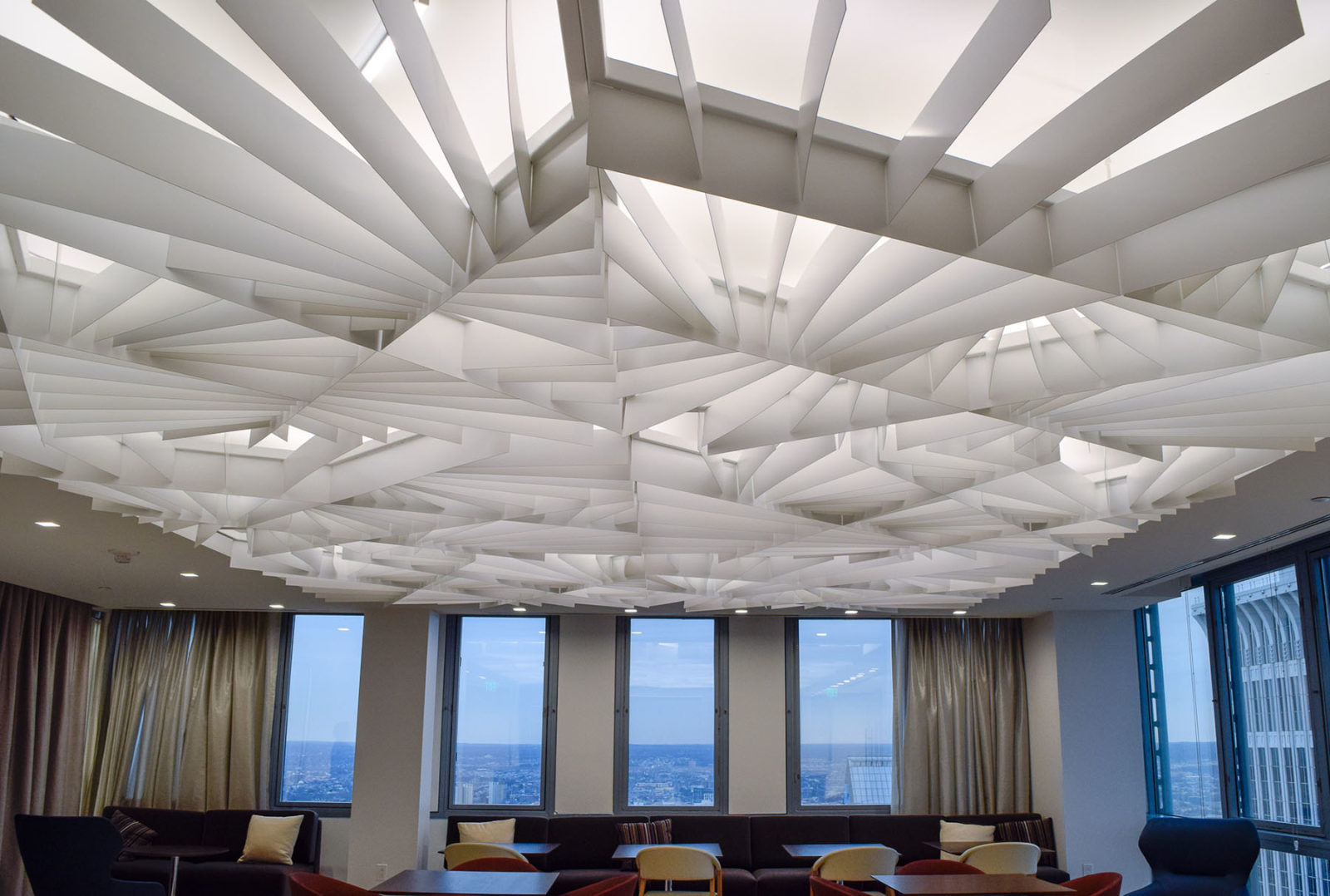 Open Ceiling Design Ideas for Commercial Projects
May 19, 2020
The ceiling is one of the most frequently overlooked areas when designing a commercial space, yet its appearance can have a major impact on the way that an area looks. Ceilings are considered to be the fifth wall in interior design because they have a lot of potential, are usually unbroken by things like windows (giving them greater uninterrupted space), and can have a major impact on the way that a room looks and feels.
In commercial spaces, the ceiling often has other concerns as well that can make finishing it a challenge. There may be utilities that run along the ceiling that require easy access, so a solid finished ceiling is often out of the question. 
Commercial spaces may also have very high ceilings, which can make spaces echo and feel overwhelmingly large for the occupants. Some commercial spaces that have taken a lot of time and effort with the rest of their decor may also benefit from having the ceiling done to match the rest of the space, creating a unified and cohesive design for the room.
Open Ceiling Design Ideas
Whatever your ceiling challenge is, Arktura has a variety of open ceiling designs and materials that can help you meet your design goals. If you're looking for inspiration or wondering what may be possible in your own commercial space, check out these 8 design ideas.
1. Strategic Placement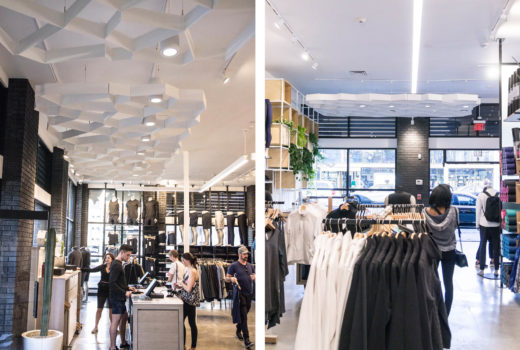 This retail store strategically placed an open, patterned ceiling system directly above the checkout area to highlight it and make it easy to find from anywhere in the store. It calls attention to an important area of the space while adding design interest that's eye-catching and memorable. Shoppers will definitely remember purchases made here.
2. Long Spaces

Ceilings in very long rooms tend to have the effect of closing in the room as you look down the length of the space. In a busy environment like this one where there's a lot of people in the area and very little in the way of design to break things up, a solid white ceiling would make the room feel sterile and closed in. 
This semi-open ceiling helps create the illusion of height and openness while matching the clean lines of the rest of the space. The room feels open and airy, rather than closed in. Plus, the baffles are made from Soft Sound material, helping provide acoustic support and reduce echos in the open area.
3. Pops of Color

Most of this space is done in two colors: white and gray. This is a very popular and modern color scheme, but by itself, it can make a room appear monochromatic and dull. 
This space solved the "bland" problem with a ceiling design that mixes white and gray sections with sections of bright yellow. This brightens up the room and adds some interest, while still keeping the monochromatic scheme below. 
The open nature of the grids also helps create an airy texture for the ceiling, which contrasts the furnishings below and adds interest to the room. And the Soft Sound material helps reduce the echoes of the people who sit and talk while waiting for their flight. 
4. Open and Airy

In spaces where the ceiling isn't very high, using a closed ceiling system can make the room feel small and boxed in. This space has a lot of natural light and a great view, and a closed ceiling would end up detracting from those elements. 
This system of open ceiling baffles helps complement the space, creating an open and airy feeling with lots of reflected light, so the room effortlessly matches its location.
5. Sculptural Ceiling

This plain loft space has a very contemporary vibe, which works well with the polished concrete flooring. Spaces like this have a way of feeling very impersonal and industrial, which can make it hard for people to feel comfortable in them. 
By turning the ceiling into a work of art, the ceiling — and the room itself — suddenly has much more interest. This grid of ceiling baffles fills the entire space but is still open enough to allow access to the upper ceiling if needed. And with the baffles being made from Soft Sound material, you don't have to worry about echoes bouncing off the concrete floor, glass windows or brick wall.
6. Angular Design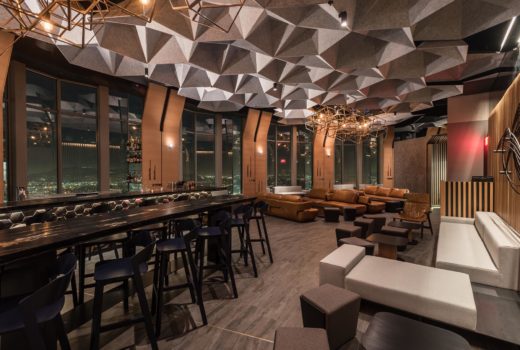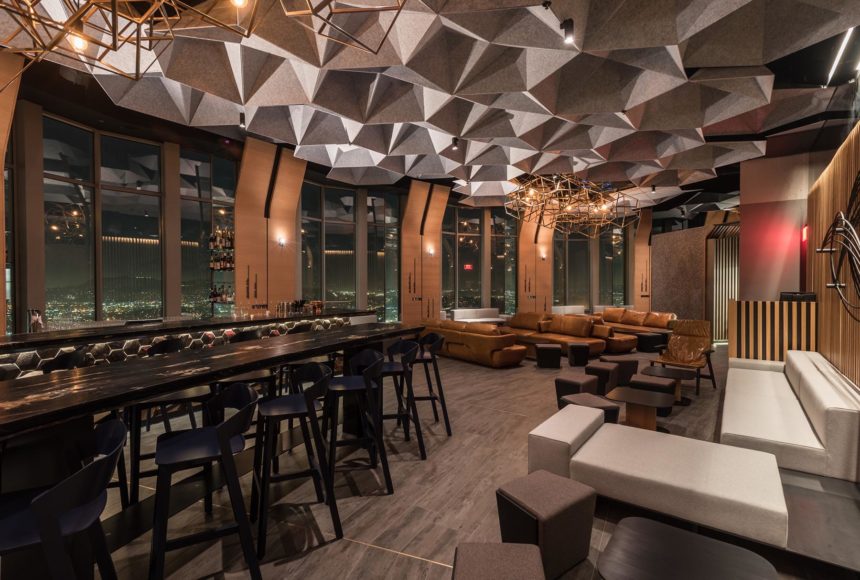 In a restaurant, the ambiance is everything. And it's easy to ruin with the echo of shoes and utensils bouncing off a smooth, plain ceiling. The angular ceiling clouds used in this design not only provide sharp, eye-catching design, but also serve to provide acoustic support to what could be a loud, jarring space. And the light grey color blends in nicely with the rest of the neutral color scheme.
7. Playful Vibe
This room has a fun, colorful and whimsical appearance to it that is greatly enhanced by the suspended ceiling system. With an otherwise neutral color scheme, this fast, casual restaurant environment makes the room pop with the bright green ceiling clouds. 
This example is a great contrast to the restaurant above, showing how ceiling baffles and clouds can be used to enhance any type of space and design.
8. Added Definition

The ducts and utilities in this space are fully on display and accessible. Covering them all would be difficult and would lower the ceiling, making the room feel closed in and dark. 
Instead, a single system of baffles is used to help add some definition to a dining area. This baffle system catches the eye and helps define the seating area and kitchen space, setting them apart from the rest of the room without the need for walls. The system is also made of Soft Sound material, so the sound of utensils and conversation doesn't echo through the rest of the space.
Create Your Ideal Commercial Ceiling
If you need to keep your ceiling open for utility or design purposes, there are still plenty of designs you can use to enhance the area. Whether you want to add some lights, color or acoustic control to the room, Arktura has what you need to accomplish your goals. 
Create your ideal commercial space ceiling today and capture these looks for your project. Or check out our gallery for even more inspiration.