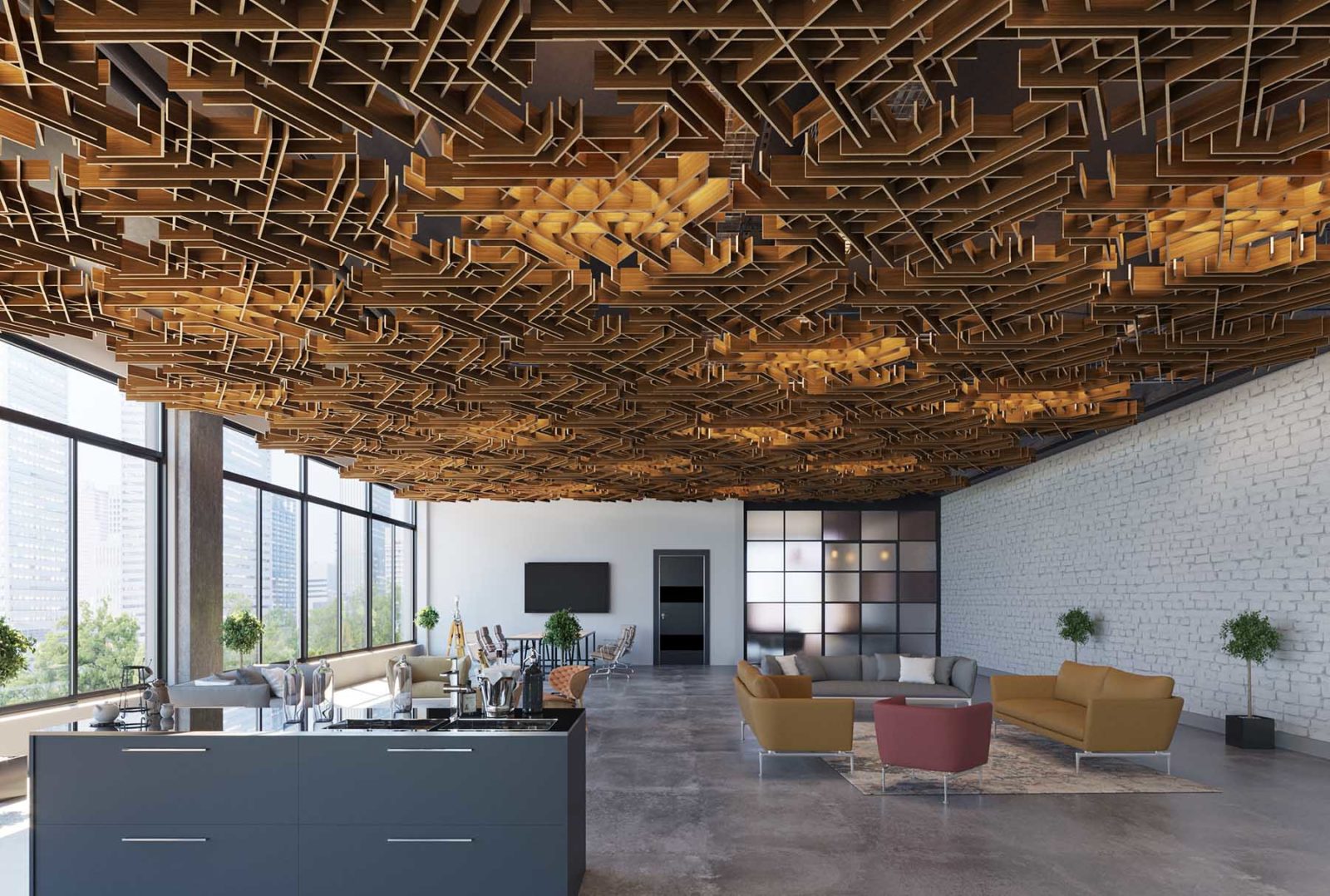 17 Ways to Bring Decorative Ceiling Panels Into Your Office Decor
May 12, 2020
Traditionally, office ceilings have been designed with utilitarian drop ceiling panels that may be functional but don't enhance the area's design or aesthetics.
Times have changed, however, and ceiling panels have, too. Today's decorative ceiling tiles and panels can be attractive and eye-catching, as well as functional. Utilizing a decorative ceiling system can add instant interest to a room, elevating your entire office decor at once.
Decorative Ceiling Panel Design Ideas
If you're wondering just how big of an impact a decorative ceiling could have on your office space, check out these 17 ideas for inspiration. 
1. Wall and Ceiling Harmony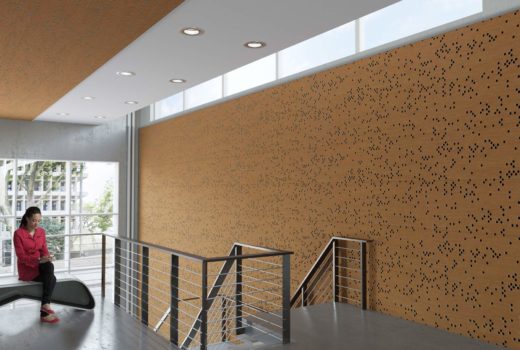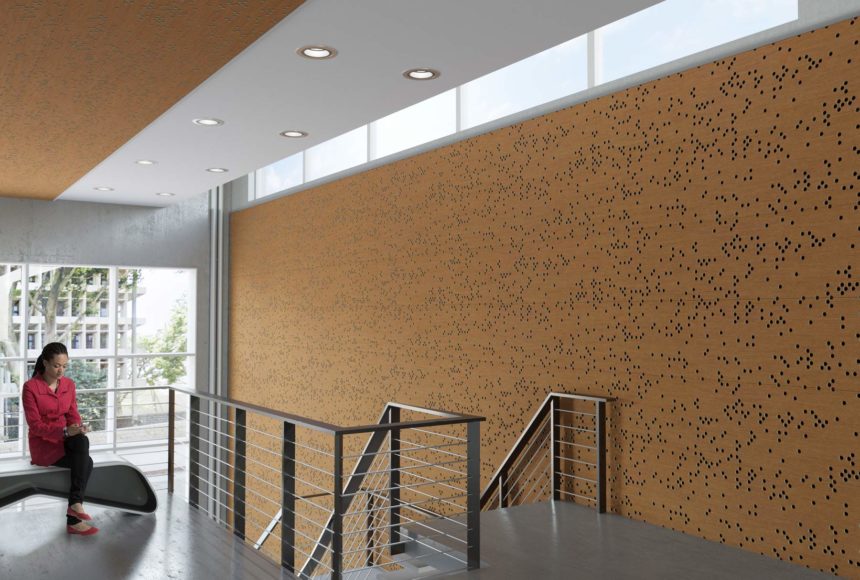 Stairwells tend to be noisy places that have a lot of height and space to cover. This soft, perforated panel system covers both the wall behind the staircase and the ceiling above, creating a cohesive look while also adding some much-needed sound control, thanks to its acoustic sound absorption, at the same time. 
2. Ceiling Wrap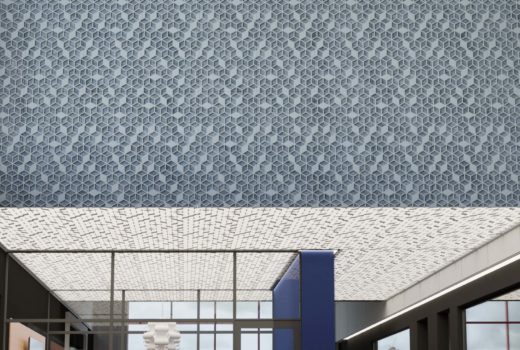 This tileable pattern adds a lot of geometric interest to the space with its repeating design. The panels are able to wrap from the ceiling onto the adjacent wall, giving the area a unique, sculptural feel, while also providing some sound control thanks to the Soft Sound material. 
3. Single Panel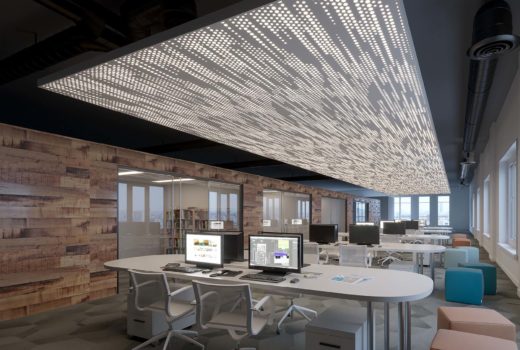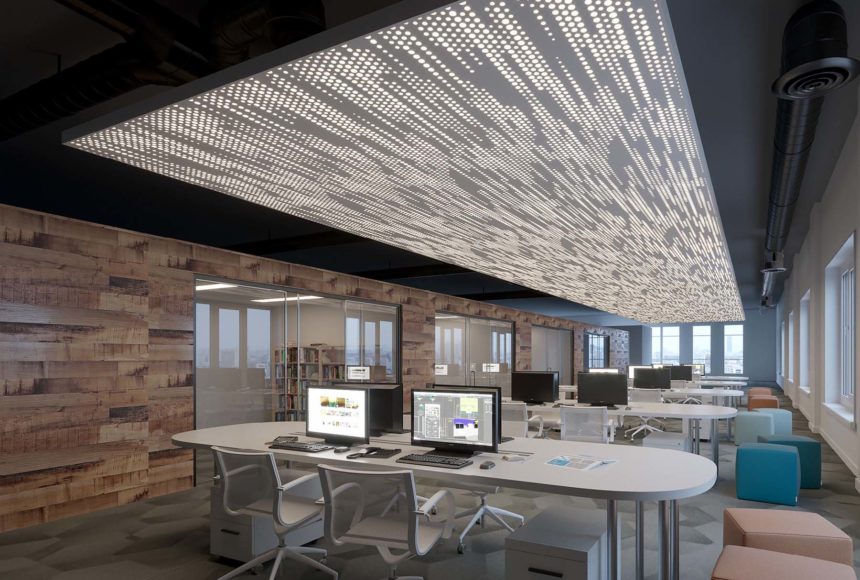 When most people picture a dropped ceiling, they picture multiple soulless tiles fitted together over the entire room. This decorative drop ceiling panel breaks the mold, creating a unique lighting and sound control solution just where it's needed most. All while providing luxurious style for the room as well. 
4. Glowing Lights
Light up your hallways with style and interest by covering them with decorative metal ceiling panels. This open style allows your lights and HVAC system to remain functional, while giving the area a style boost at the same time. The soft, repeating pattern creates a beautiful, subtle enhancement to any office. 
5. Open Space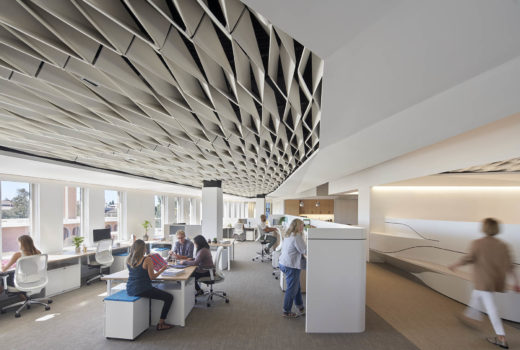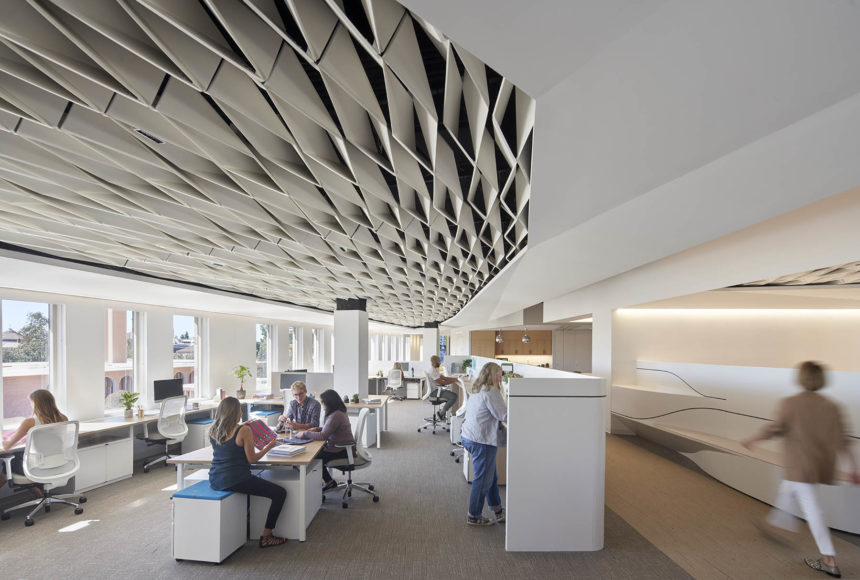 Busy spaces with tall ceilings can get loud. These unique, folded ceiling panels help absorb sound from below, while also creating a unique, dynamic appearance for the room. The way the panels fold plays up light and shadow to create a work of art on your ceiling. 
6. Open Panels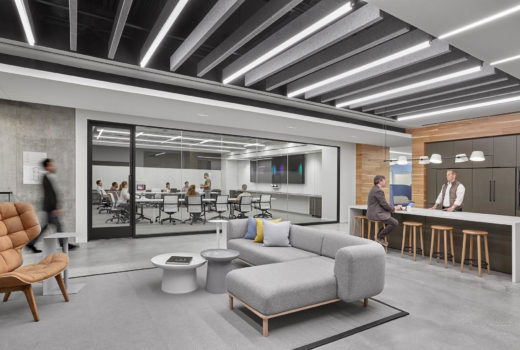 Sometimes, you just need your ceiling to be simple, elegant and functional — and with these hanging baffles, you get all three. The baffles have a minimalist design that complements modern spaces, and they integrate both lights and sound control for the perfect office environment. 
7. Lacy Patterns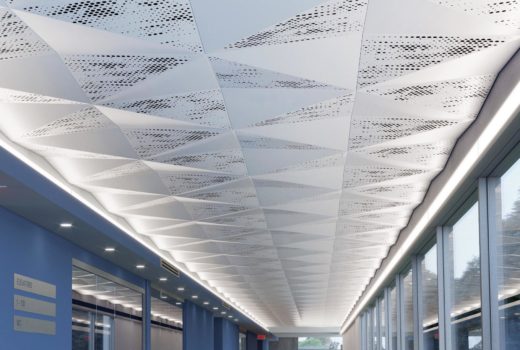 Long hallways often need something to help dress them up and make them a little less plain. This ceiling system creates a set of gently moving angles that have a modern geometric pattern to them, alternating with solid sections. Its dimensionality helps move the eye down the hall naturally, enhancing the space. 
8. Backlit Ceiling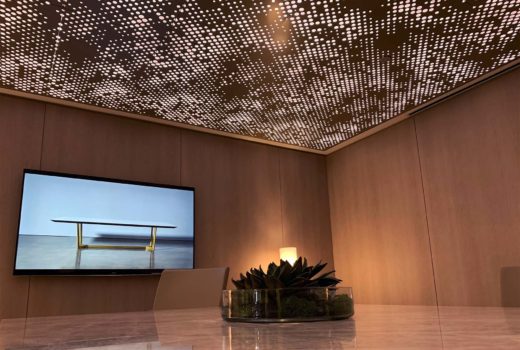 This office has a very understated, minimalist decor, so the designer chose a ceiling panel that's with an interesting, cloud-like design to help to liven up the whole room. These panels are lit from above, softening the light in the room, while still being entirely functional and elegant at the same time. 
9. Simple, Repeating Design
Modern offices need a modern take on decorative ceiling panels. This seamless tile system has a unique and simple repeating design that works well with the clean lines and minimal surfaces that are used throughout the rest of the office space. 
10. Classic Contrast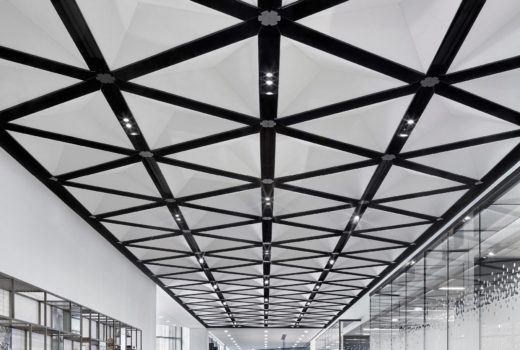 There's nothing like a black and white repeating pattern for creating a very clean, crisp and classic look. These panels are a modern take on a geometric design, featuring gleaming materials that incorporate recessed lighting. 
11. Sculptural Ceiling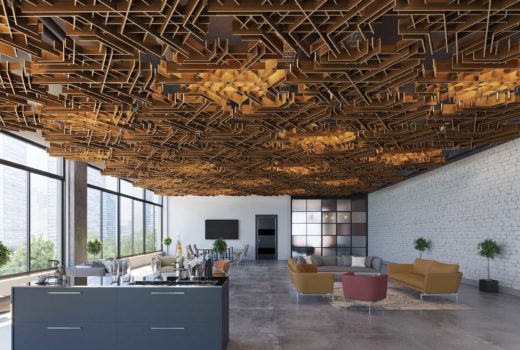 Industrial office spaces sometimes need one element that really stands out and captures visitors' attention. In this office, it's the ceiling, which is made from a grid of interlocking panels that create an endlessly changing and unique sculpture that is sure to turn heads. 
12. Sharp Waves
This hallway has a very modern and technology-driven vibe to it, and the designer wanted a ceiling to match that aesthetic. It does so with sharply angled panels that are backlit to help illuminate the space. The effect is nearly space age and perfectly on brand. 
13. Delicate Pattern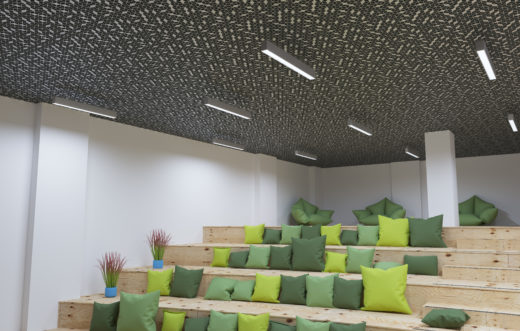 Create complex patterns from simple, repeating designs for a look that demands a double-take. This ceiling has a lot of interest that plays perfectly with the lounge and seating style of the room. If backed with sound absorption material, it can also help to control the acoustics for the space. 
14. Color Pops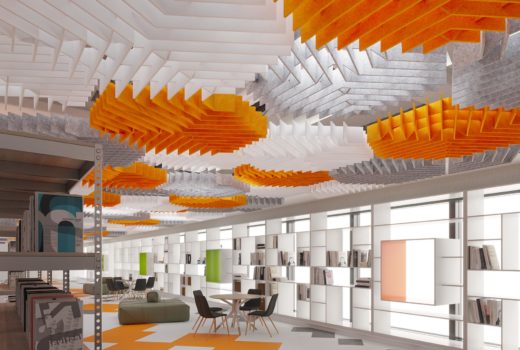 This ceiling helps to create a fun, whimsical effect that is duplicated by the carpet tiles on the floor and proudly proclaims the company's branding. The open pattern of the drop ceiling panels helps to create a softer look for the room, instead of a stark metal design, while the sharp angles complement the angles of the wall systems. 
15. Origami Folds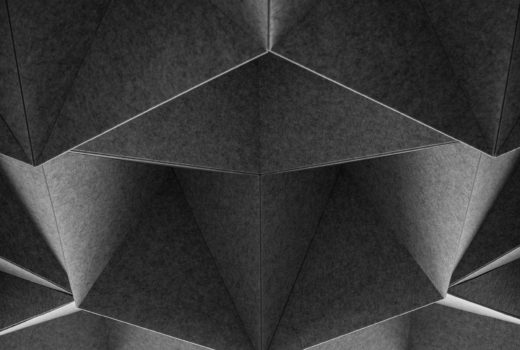 These soft, sound-absorbing panels are folded in order to give your ceiling an excess of dimension and depth. Cover the entire ceiling in this pattern or localize it above specific sections to customize your design. 
16. Layered Tiles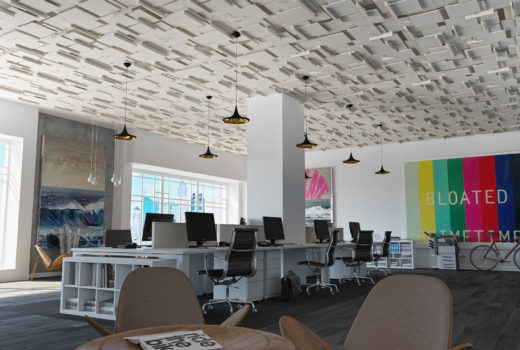 This office ceiling has a fun, layered appearance made with repeating, textured ceiling tiles. They give the ceiling a unique, geometric style that is perfectly complemented by rectangular angles in the rest of the room, which helps create a cohesive look for the office. 
17. Soft Arches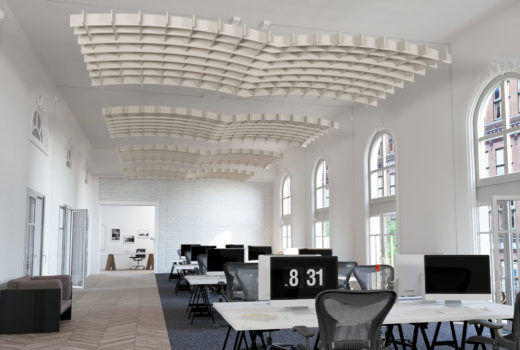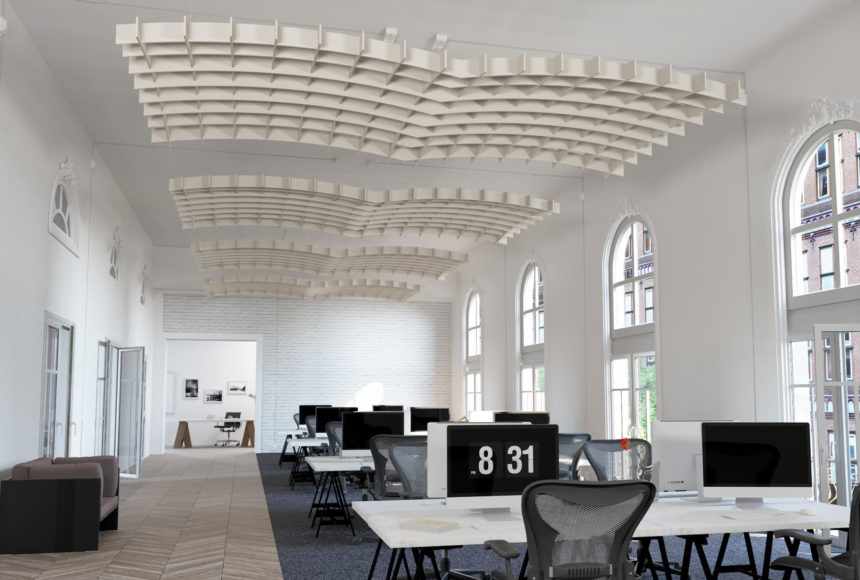 You don't have to settle for a flat ceiling. With this drop ceiling system, you can change the overall appearance of a room. The panels create unique arches and domes that are perfect for spaces with high walls. And by choosing panels with acoustic material, you can help reduce the amount of echo that the high walls and ceiling naturally produce.
Decorate Your Office Ceiling
Decorative ceiling panels offer a variety of ways to complete your office decor in a way that makes sense for your space and brand. Whether you need lighting and sound control or just a way to elevate the design, decorative ceiling panels may be the solution you've been looking for. 
For assistance with adding decorative ceiling panels in your design, contact an expert at Arktura today.