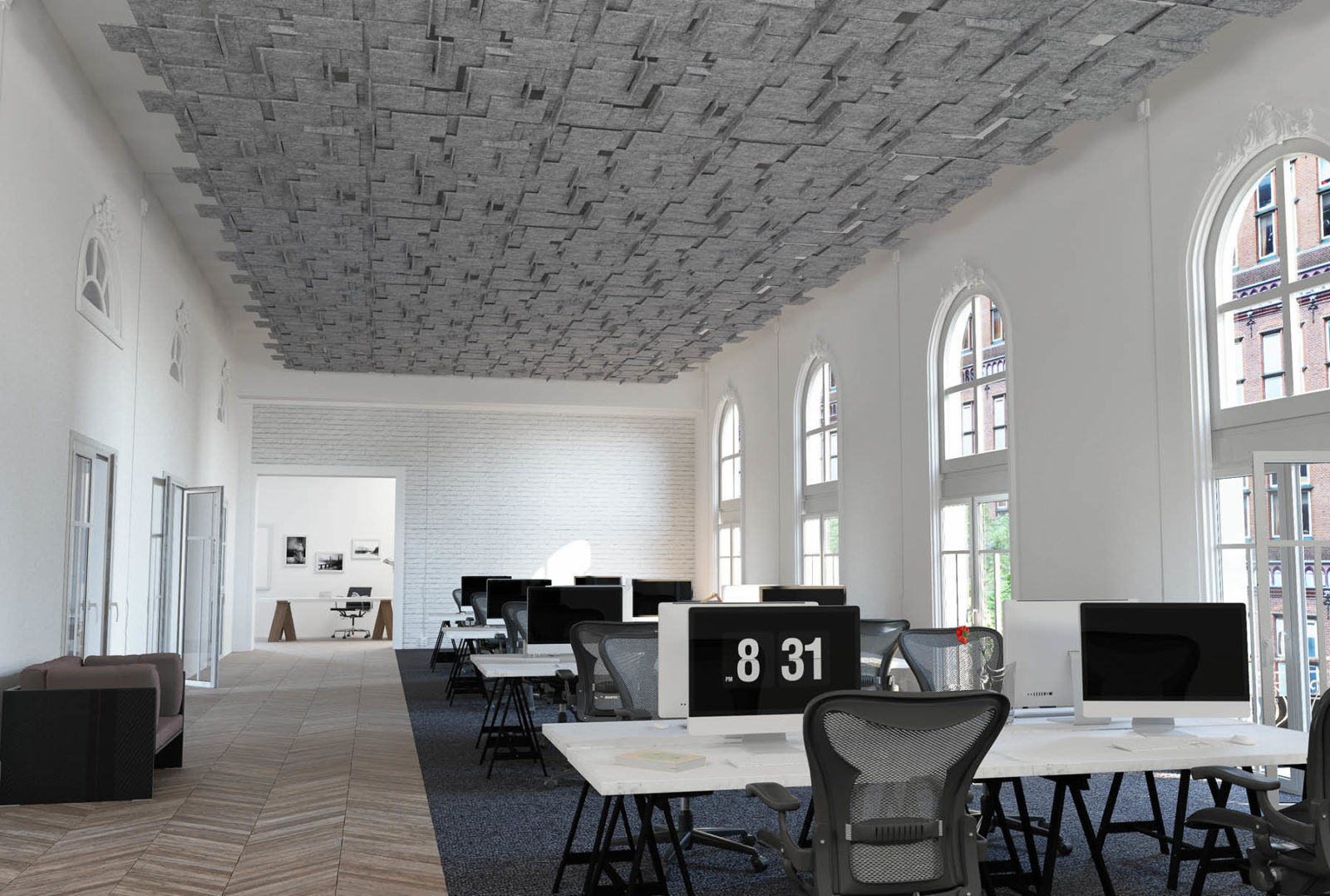 Acoustic Ceiling Systems That Achieve Both Performance and Beauty
March 18, 2020
Commercial spaces have long needed acoustic paneling to help manage unwanted sound. For years, the best answer to the issue was a drop-ceiling made of plain, utilitarian acoustic panels. 
The panels themselves were lackluster, hard to care for and often didn't do the job as completely as users would have liked. Designers were often forced to try to incorporate them into an otherwise aesthetically pleasing design, with mixed results.
Times have changed, and newer acoustic solutions, such as baffles and clouds, have evolved. Today's acoustic ceiling solutions use aerospace-precision manufacturing to bring you the best in sound dampening technology, along with cutting-edge style. These acoustic ceiling systems do not in any way resemble the old drop ceiling tiles previously used in office buildings everywhere.
7 Acoustic Ceiling Solutions to Make a Statement 
Ceilings are often considered the fifth wall of a room, and in the most dynamic and innovative design settings, they need to match the style and design found in the rest of the space. If you're wondering just how effectively acoustic ceiling systems can accomplish this, check out these seven designs that will show you how easy it is to make a statement without sacrificing acoustic performance.
1. Light and Colorful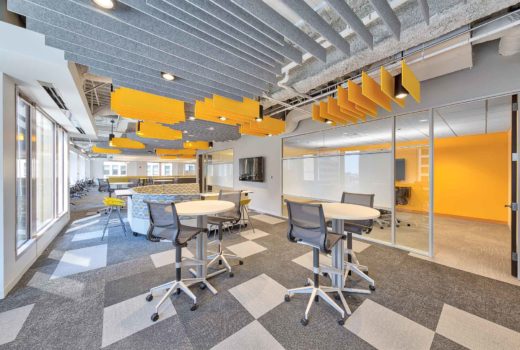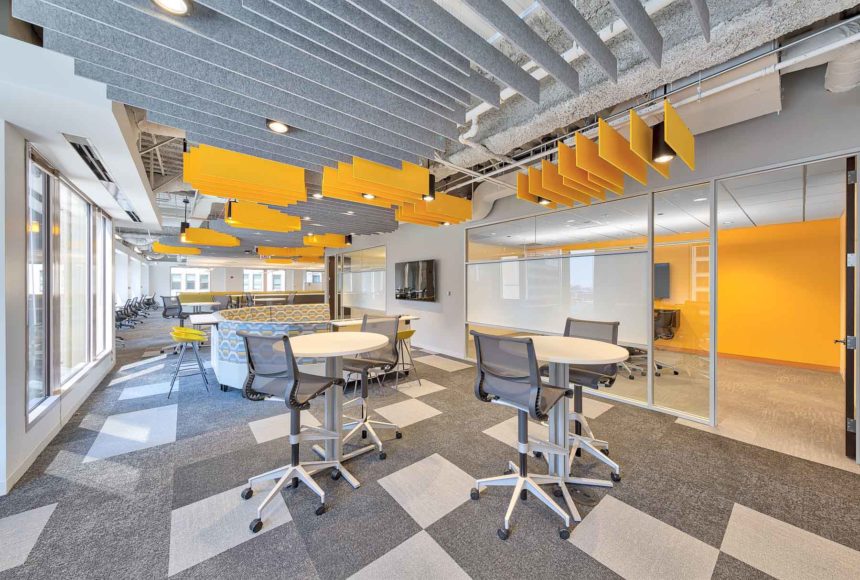 One of the misconceptions about acoustic ceiling systems is that they need to form a solid barrier across the ceiling. That isn't always necessary. 
With the right materials and system design, you can have a light, airy and colorful system that creates a unique look for your room, while also absorbing unwanted sounds. These unique fins create a geometric pattern that looks as though it was designed for style and not for acoustics. 
2. Criss-Cross Grid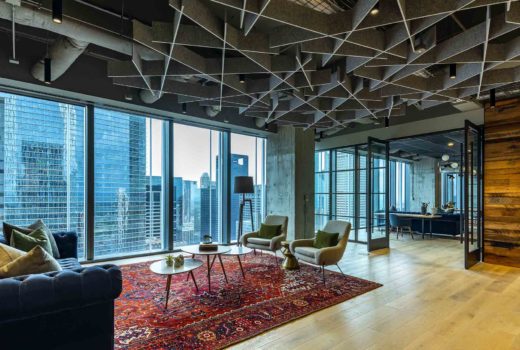 Many businesses today rely on open workspaces and a more playful vibe for their office and building designs. These unique grid-style acoustic ceiling systems are perfect for these modern spaces, as wide-open rooms often need more acoustic control than traditional office spaces. They also are less likely to have wall partitions to help balance and control sound, so the ceiling becomes more important than ever before. 
The grid helps control the acoustics, while also perfectly matching the aesthetic of the room. The playfulness of the design means that it can be included in areas where it's needed, without leaving a visual gap in areas where it's not. 
3. Sleek Angles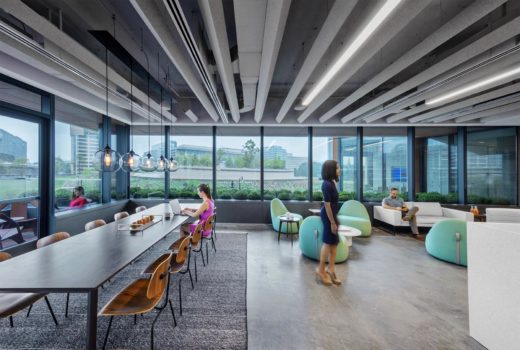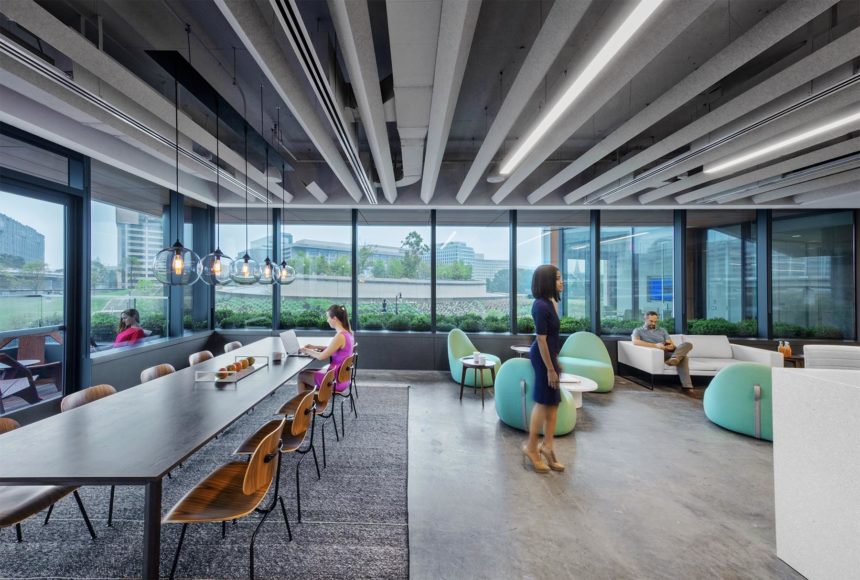 One of the best parts of acoustic ceiling systems like this one is the ability to piece together the various components in different configurations. These angled baffles can be installed in multiple directions, so you can create your own unique look for the room, conveying whatever kind of style, design or vibe you want. 
Despite the amount of empty space between them, the angles of each piece still absorb plenty of sound, controlling the acoustics for the open work environment. 
4. Intricate Grid Patterns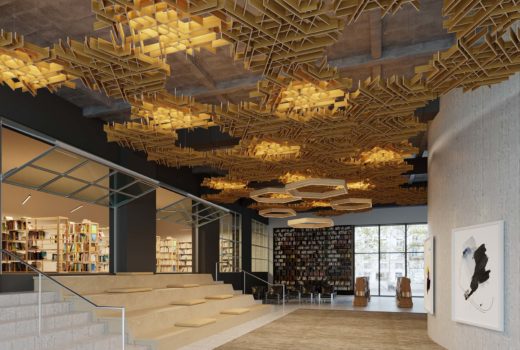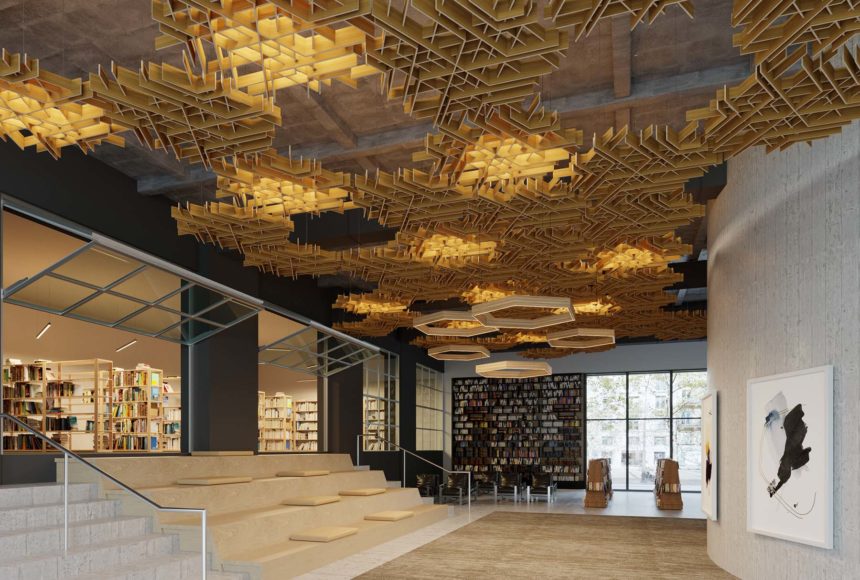 In a large area, you'll have more need for acoustic control. You'll also have a wider, more dynamic canvas to work with in terms of open ceiling space. 
This grid design allows you to cover an extensive area while creating a unique and eye-catching style. You can make elegant designs, geometric patterns or other solutions that will make the statement you're looking for and still control the sound. 
The look created by this grid is layered and organic, designed to draw the eye and also bring the ceiling down in height visually, so the room feels cozier and closer than it really is. 
5. Hexagon Design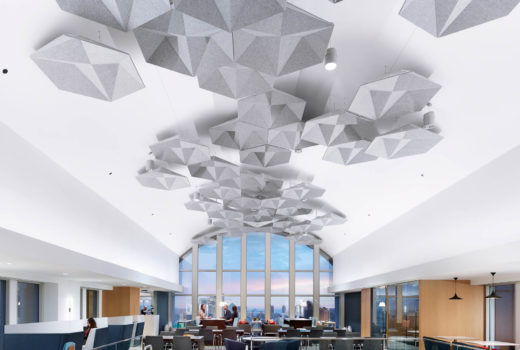 Openwork areas are ideal for creating a more fluid workspace and boosting productivity. They also create an environment where it's difficult to concentrate when you can hear everything around you. 
This unique acoustic ceiling solution fixes this common problem by catching and absorbing sound from below, in a way that is much more attractive than traditional ceiling tiles. The open spaces between each module keep the design fresh and interesting by introducing negative space. And because the modules themselves are so effective at dampening sound, they don't need to cover the entirety of the space like the old dropped ceilings. 
6.Sculptural Design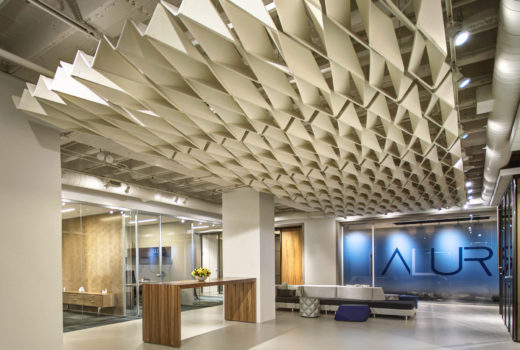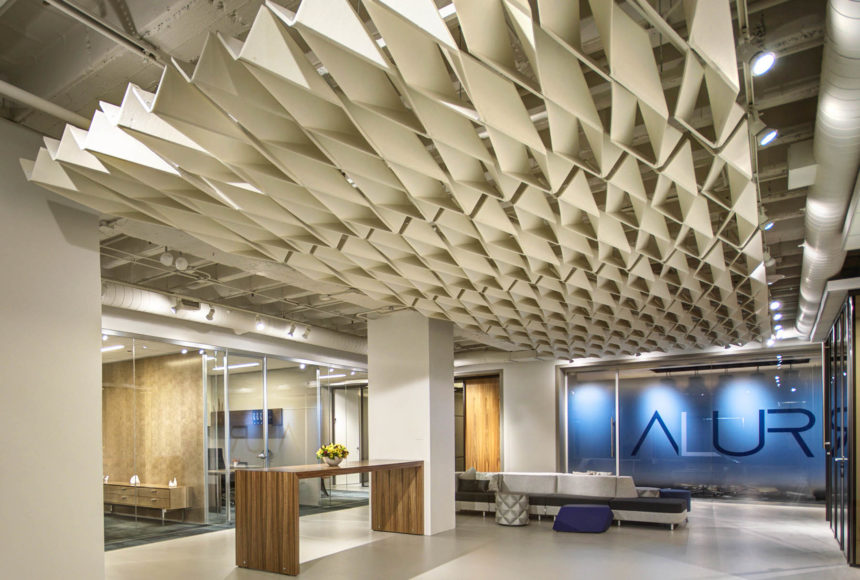 Lounge areas have special needs when it comes to acoustics. They tend to be located in open spaces where there's a lot of traffic and therefore a lot of ambient noise. Using modular acoustic ceiling systems can help absorb some of that sound and make the area more functional. 
However, while you want the area to be comfortable, you still want the area to fit the office's aesthetics. Using unique ceiling solutions like this one, you can create an eye-catching sculptural design that also absorbs and dampens the sound of the area below.
7. Layered Acoustics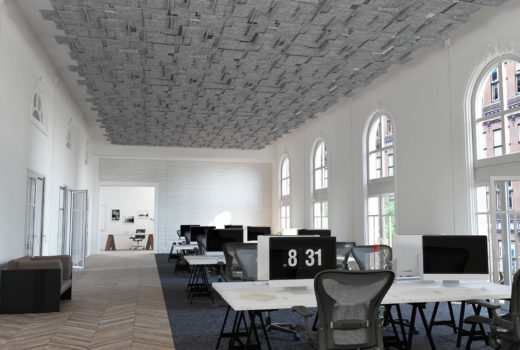 Open office floor plans also have their own special set of acoustic needs. With multiple people typing, talking and walking at all times, echoes can be a problem.
This acoustic ceiling solution solves the issue effortlessly. SoftPlanes uses our SoftSound material helping to absorb and dampen sounds, while the complex, tessellated pattern adds visual interest to the ceiling.
Get Better Style and Sound Control Together
Today's acoustic ceiling systems have evolved from the old dropped panels in terms of both style and function. With these acoustic ceiling solutions, you can bring your vision to life, play with angles and patterns that enhance your surroundings and make sure that the space is going to meet the needs of the occupants at the same time. 
Visit Arktura.com to see more of stylish sound control options, and take your acoustic ceilings to the next level of sound control and design. Or click here to find a rep near you.