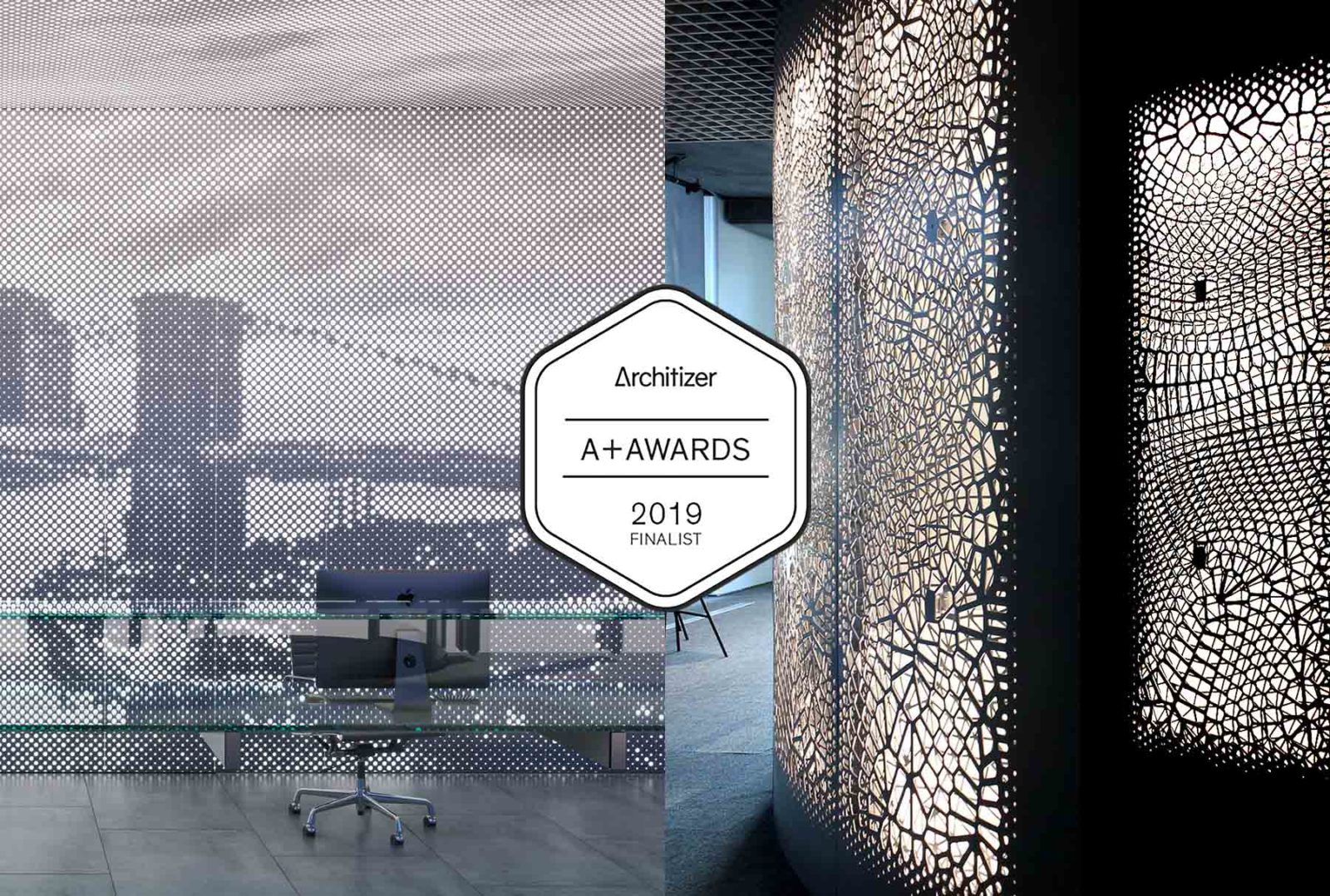 Arktura Architizer A+ Awards Finalists for Third Consecutive Year – Voting Open Now!
June 25, 2019
Arktura Named Architizer A+ Awards Finalists for Third Consecutive Year
We are excited to announce Arktura is an Architizer A+ Awards finalist for its third consecutive year! Last year we had the honor of taking away first place in the Architecture + Acoustics category, with our work for Mead Johnson Nutrition's Chicago Headquarters, while our custom work for IBM Watson's Experience Center in Cambridge, Massachusetts was also a finalist in the Architecture + Collaboration category. Our TriSoft® and SoundStar® acoustical ceiling systems and Soft Sound® Wood Texture acoustical material were previous finalists in the Acoustical Applications product category. This year we're back with a product nomination, and project contributions across three categories. Learn more about this year's finalists below.
Vapor® Graphic Perf® Customizable Panel System 
Our Vapor® Graphic Perf® customizable panel system has been recognized as a finalist in Architizer's Wall and Wall Covering Category, adding to an already substantial amount of industry accolades for the product. These include an Interior Design Best of Year Award late last year, and a recent Azure 2019 AZ Public Choice Award, on top of other media coverage.

Though nominated under wall products, Vapor® Graphic Perf® represents the next evolution of paneling for both walls and ceilings alike. Vapor® Graphic Perf® turns walls and ceilings into a limitless canvas, using our proprietary, algorithmic software to translate branding, photography and visual elements to perforation across easy-to-install, torsion spring supported perforated metal paneling. The system is further enhanced by the availability of custom colors and accessories, including Soft Sound® acoustic backer panels and Arktura's integrated lighting. Arktura is honored by the attention this system has garnered, and is excited by the creative applications clients are finding for it.
Visit our Vapor® Graphic Perf® product page to learn more.
Data Moire Custom Feature Wall for IBM Watson Experience Center
Also nominated within projects is Data Moire, a custom feature wall collaboration between our Solutions Studio® team with Los Angeles based Synthesis Design + Architecture and IBM's Watson Group. Built for IBM's Watson Experience Center in San Francisco, California, the project utilized the cognitive computing capabilities of IBM Watson to inform data-driven generative design processes. We helped bring to life that design as an intricate CNC milled, double layered aluminum, back-lit screen wall. It produces a moire-like effect through abstract visual interference patterns generated by the overlaying of two mappings of the same data set.
Data Moire is a finalist in two Architizer A+ Categories, Architecture + Collaboration and Architecture + Technology. You can learn more about the project through the following video from Synthesis:
More photos of it are also available on our project page. This project has  previously been featured across Architect's Newspaper, Contract Magazine, and ArchDaily, among other outlets.
USC Shoa Foundation Acoustic Ceiling and Wall Applications
Last but definitely not least is the upgraded USC Shoa Foundation, our collaboration with Belzberg Architects, and finalist within the Architecture + Ceilings category. Located on the campus of USC, this project features a number of elements by Arktura, including our standard SoftFold® acoustical ceiling baffle system, custom wall and ceiling applications of our Soft Sound® acoustical material, and custom applications of our Vapor® wall and ceiling panel system. Together they help provide elegantly enhanced aesthetics and noise control, supporting the delicate and meaningful work of the foundation, founded by Steven Spielberg to record the stories of survivors and witnesses of the Holocaust and other genocides.

This project has garnered media attention, being recently featured by Interior Design.
About the Awards
The Architizer A+ Awards is the largest awards program in the world dedicated to honoring the year's best Architecture, Spaces, and Products. The A+Awards are judged by a jury academy featuring prestigious members of the architecture and design community, as well as luminaries from industries like art, technology, fashion, media, and real estate. In collaboration with its official partners, The Webby Awards, The Wall Street Journal, and Phaidon, the 2018 A+Awards received over 400,000 public votes for 5,000 entries from over 100 countries.