Standard vs. Customizable
The SoftGrid® Family. Whether using one module or many, the SoftGrid® family of ceiling elements opens up a multitude of possibilities for design and acoustical impact. Choose your pattern from our SoftGrid® library and rely on this simple-to-assemble, easy-to-hang approach that works with most ceiling types. Modules can be used as a singular feature or connected with our bridge clips to create a dynamic architectural field.
SoftGrid® Features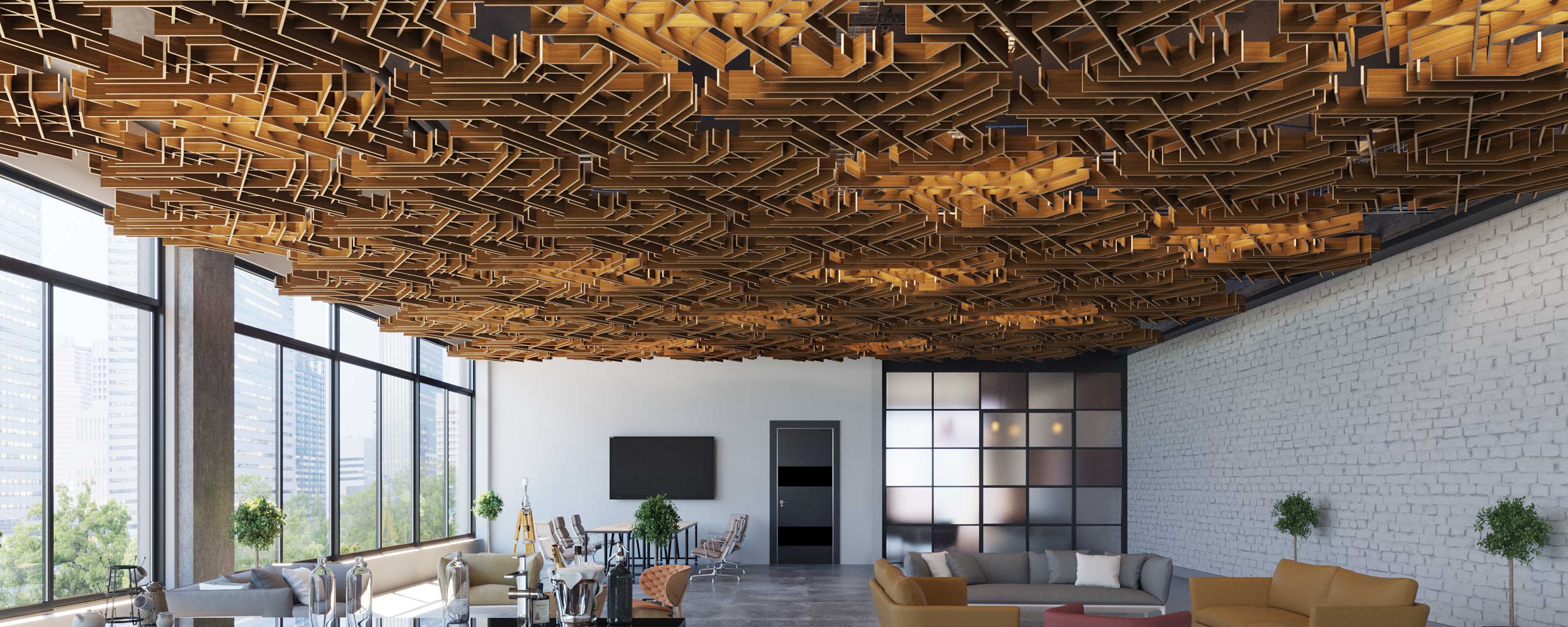 Preconfigured Solutions:

SoftGrid® products are preconfigured solutions designed with a dynamic array of criteria and effects. Choose from the many options in our library to uniquely impact your project.

Acoustical Systems:

The system's 1/2" thick Soft Sound® fins provide an NRC rating up to .9, couple that with their gridded layout and you can achieve amazing acoustical performance across an entire space or simply over a desired zone.

Quick Ship Product:

When you purchase a preconfigured solution, we quickly deploy our manufacturing expertise and automated processes to meet your project deadline.


Open Versatility:

Our SoftGrid® ceilings are 95% open in plan to accommodate building systems and lighting. The SoftGrid® Family allows you to introduce new design elements into your space while helping to screen existing infrastructure from sight.


Performance & Sustainable Practices:

All of our SoftGrid® materials have a high proportion of recycled content and are fully recyclable.

Easy Installation:

We help eliminate the guesswork and reduce installation time and cost through our proven, step-by-step "kit of parts" approach. Our easy-to-follow installation instructions provide a clear path to success for your project.

DESIGN WITH A MODULAR SYSTEM

INTEGRATE LIGHTING WITH EASE

EXPERIENCE UNDULATING SURFACES

MANAGE THE ACOUSTICS OF YOUR SPACE WITH DESIGN
How to Specify
Select an icon to view more
Select a Style

Select the style that best suits your vision and project needs. Pick from a variety of designs, all made from our Soft Sound® acoustical material, to provide high performance sound attenuation while enhancing aesthetics.

Select a Color

Modules are available in a variety of colors, including naturalistic wood finishes. See our Soft Sound® color brochures for more information.

Select a Number of Modules

All Atmosphera® Standard modules are scalable by design. Select the quantity of modules needed for your project.